Los Angeles Heads for Another Furore
The shipyard saga takes an unpleasant turn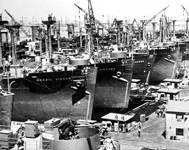 A distressing development at the of is threatening to gum up the works and make a mockery of its slogan "'s Port."
It's all about the hoo-hah over the Gambol Industries shipyard, which caters for yacht-sized repairs and construction. At the last minute, Gambol took the port and everyone else by surprise in objecting to a plan to use a long disused area of its yard (mostly used for film shoots in  abandoned buildings) to dump slush as part of a project to deepen the main channel for the China Shipping and TraPac terminal expansions.
Without those two projects, LA can kiss goodbye to staying abreast of the expected rise in container volumes over the next five years, now that the Great Recession is supposedly over.
Gambol contended that it could revive its yard, turning the clock back to the glory days of handling ocean-going vessels. With the dreaded term "lawsuits" being bandied about, the port backed off, agreed to allow Gambol a year to fill in the blanks of its proposal and pledged to give advice and support.
So far, so what? Well, the deal only came  about because a city councilor who heads the three-member trade and tourism committee unexpectedly sided with Gambol and prevailed upon the council to tell the port (which is a department of the council) to accept the arrangement.
The councilor was also appointed as an arbitrator to make sure that the two sides stayed pally with each other.
In another capacity, I followed the developments closely and spoke to all the parties – or their representatives. The councilor told me that Gambol should be given a chance because of the likelihood of several thousand jobs and several hundred million dollars coming about.
A spokesman for Gambol told me that the reason for the last minute objection was that they had no idea of the dredging plan, despite it having been advertised for some time.
Port chief executive Geraldine Knatz told me there had been no indication of Gambol's plan and no objections had been raised to the dredging silt location. A port spokesman showed me a list of regulatory and planning hurdles the port had to clear. Altogether there were about a dozen, which had taken several years.
Then he showed me how many Gambol had cleared – no more than four or five – which the company still had to deal with.
 Now, it turns out that the councilor's impartiality—and her original support for Gambol -- is tainted by a donation of several thousand dollars from Gambol and associated donors to her political campaign for state office. She has given up her role as arbitrator, following the revelations in a local newspaper.
Meanwhile, the Army Corps of Engineers is going ahead with dredging the main channel – while Gambol says it has come up with a better idea for dumping the sediment.
Which all points to inevitable legal wrangling and more delays. There will be a number of winners from this – the East Coast, the Gulf ports and . And that's before the is widened.
might have to change its slogan.