Lessons from the Sky
While the NTSB blames pilot error in the deadly Asiana airline crash, it also offered some interesting insights regarding the role of sophisticated new automated controls. The maritime market should pay heed.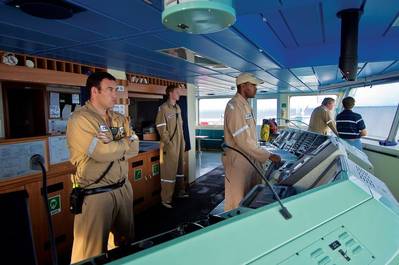 In case you missed it, the National Transportation Safety Board (NTSB) on June 24, 2014, released its findings regarding the crash of Asiana Flight 214 last year in San Francisco (
http://www.ntsb.gov/news/events/2014/asiana214/abstract.html
) . While the NTSB found that 'pilot error' was the primary cause of the crash, it also found fault with increasingly complex automated aircraft controls and apparently the pilot's unfamiliarity with them.
In short, automation that was designed to improve safety apparently now is creating new opportunities for user error.
As anyone reading these pages knows well, there has been a dramatic increase in the incorporation of automated products and systems on the bridge of commercial vessels, as the industry leverages advances in computing and communication speed to enhance the safety and welfare of ship and crew. While it can be assumed that all intentions are good, the crash of Asiana Flight 214 should serve as a warning that dependency on new technology is no substitute for solid mariner training, education and experience.
Earlier this year we had the privilege to interview Tom Crowley for the cover story of the Q1 edition of Maritime Professional, and Crowley offered an interesting and relevant insight regarding the evolving role of technology on the bridge. In a discussion of "technology," he both praised and lamented the modern marine electronics and the evolving wheelhouse, saying: "There's a ton of stuff in the wheelhouse, but I don't think that anyone has done a really good job of making sense of all of that. You have so many new things in the wheelhouse, yet we haven't gotten rid of a lot of things in the wheelhouse. We just keep adding and adding all of this stuff, but we're not taking anything away. It's really overload on the crew and we have to figure a way to make that more streamlined.  How do you really simplify the job in the wheelhouse and not just keep layering more things on them, and requiring more and more training?"
(For the full story, please visit:
http://digitalmagazines.marinelink.com/nwm/MaritimeProfessional/201403/
)
In the May 2014 edition of Maritime Reporter & Engineering News, in the wake of the tragic SEWOL Ferry accident in South Korea, we reached out to leaders in maritime training and education for their perspective, and again several salient points were made:
While technology in the maritime sector is arguably more capable than ever to help avoid this and other accident, they still happen and always will. A current catch phrase in the maritime and offshore sectors is "Risk Mitigation", and to this end it is agreed that there is no there is no technology can ever remove all risk from an inherently risky operations.
"Emphasis must be placed upon looking out the window," said Captain Jeff Cowen, who is a graduate of the California Maritime Academy with a diverse seagoing career. "What happens if the GPS, ECDIS or Radar goes out? Ships must still be able to navigate safely. At the bottom of U.S. charts there is a warning: Mariner should not to rely solely on any one means of navigation."
Captain Ted Morley, COO, MPT, agreed: "ECDIS, ARPA, AIS, for example have all greatly enhanced the amount of information that a watch stander has, but they have also increased the amount of time that person spends looking at all that information. A balance between technology and first person observation is needed to ensure total situational awareness.
Technology and training are only two components; issues like crew size as compared to vessel size, ship's schedule, and the ability of the master and crew to act effectively are all components that need to be looked at," Morley continued. "We are seeing an increasing amount of vessels with a decreasing pool of experienced mariners sailing on ever decreasing crew sizes. Training and technology can't always "take up the slack" of smaller bridge teams or smaller deck crews."
(For the full story visit:
http://digitalmagazines.marinelink.com/nwm/MaritimeReporter/201405/
)
While advances in technology are sorely needed in many sectors of the maritime chain, similar emphasis and resources must be paid to the familiarization, training and education of the new equipment.

Photo: Crowley spends considerable time and effort to ensure that its crews are trained and maintained properly on all of the vessels that it operates. (Photo courtesy Crowley)