Jack Ward (1553-1622)
Englishman turned Barbary pirate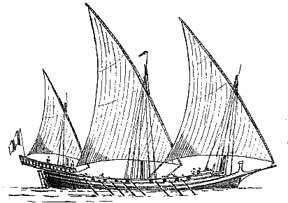 Born in Faversham, Kent in about 1553, Jack Ward (or Birdy) spent his youth in the fisheries trade.
Following the defeat of the Spanish Armada, he participated in privateering, an activity encouraged by Queen Elizabeth.
With the accession of James I in 1603, Letters of Marque were no longer issued.
Ward was pressed into the Royal Navy, but soon deserted with a group of other discontented sailors.
They turned to piracy, sailing first out of the Isle of Wight and then transferring to the Mediterranean.
Ward and his crew operated for a time out of Sale, Morocco.
In 1606, he made an arrangement with Tunisian ruler Uthman Dey to use Tunis as his base, agreeing to give the Dey one-fifth of his proceeds from piracy.
His flagship, the
Reniera e Soderina
, sank off Greece in heavy weather in 1607 with a loss of 400 sailors, Muslim and Christian, but Ward was not on board at the time.
He attempted to obtain a royal pardon from King James I based on his supposed avoidance of attacking English ships and focusing his attention on so-called Papist ships (Italian and Spanish primarily).
The King turned him down.
Ward, converting to Islam, adopted the name Yusuf Reis.
He eventually commanded a whole fleet of corsairs and became one of the most notorious of the Barbary pirates.
A rich man, he died of the plague in Tunis in 1622.