Intended for the USA, Seasnake set to slither into Indian waters
Seasnake could become a reality in India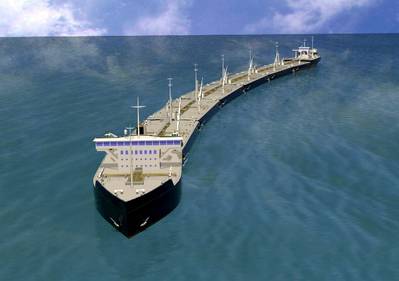 It is said that a prophet is not accepted in his own country. This could be said about the Seasnake concept which was created more for meeting the challenges of the water transport industry in the US but has generated a lot of interest in India. Heading the list is Infrastructure Leasing & Financial Services Limited (IL&FS), one of India's leading infrastructure development and finance company.
"We are in talks with Seasnake World Wide Marketing LLC," confirmed Capt K. P. Rajagopal, Sr. Advisor of IL&FS Maritime Infrastructure Company Ltd which is building two shipyards in the country one at Cuddalore in Tamil Nadu and another at Nana Layja Shipyard in Gujarat. "We see a lot of prospects for Seasnake in India especially for ports with shallow draft of 5 mtrs. These ship trains can bring in the same quantum of cargo as the conventional vessels at reduced costs without having to dredge and build extensive infrastructure. Compared to dead weight of present vessels to dead weight of Seasnake train the steel requirements is 20% less and may even go up to 30% as the cross section is circular. Thus the cost comes down by that much." However, he was not willing to give more details because the discussions were at a crucial stage.
Michael G. Okash, President and CEO of Seasnake who was in India last week said, "We have been in talks with other players in the field and they are interested in building the Seasnake trains as it will find great use in the coastal and inland waters. It is a concept for marine transport of liquid, dry bulk, containers and other inter-modal cargoes using a train of cargo modules in an articulated arrangement."
The concept ship works like a seatrain on water, with a forward traction unit, two to six detachable cargo barges and a powered "caboose." Suitable for low draft waters, it can be split into sections making it suitable both for inland and coastal waters. The barges -- which can carry dry or wet bulk or containerized cargo -- connect with a ball and socket system and utilize stabilizing bumpers. They can be individually delivered into most harbors. Being ballast free Seasnake eliminate the threat of introducing invasive species.
The design of Seasnake's cargo moduels can be tailored to meet a broad range of cargo handling and special use needs. There are virtually no limitations to the diversity of cargo type or the cargo handling designs that can be incorporated into the Seasnake cargo module.
Mr. Okash claimed that at sea, the Seasnake has similar speed and power characteristics of a ship and under simulation has been found to be able to handle severe open ocean storm conditions. Unlike a ship however, the Seasnake cargo modules can be moored in a port for load or discharge over a much longer period than would be practical for a ship. This can significantly reduce demurrage and expand market opportunities.
With the government thinking in terms of reducing the pressure of transporting cargo on the railway and roadway system by shifting more of the cargo on to the water transport system operators could find the Seasnake a good alternative. Perhaps what is US loss could well be India's gain.