Ingenious launch for a DWT20000 vessel
People who is familiar to airbag ship launching technology may know that in most cases there will be pulling system to prevent vessels from slipping before launch. But if the pulling system is not available due to practical limitation, can people launch vessels with marine airbags? The answer is yes.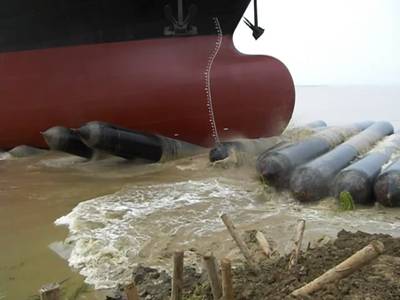 Once Eversafe Marine successfully launched a 20,000DWT ship on a no fixture ramp with marine airbags. This cargo ship is 170 meter long and 27 meter wide with 7800 tons light weight. It was built upon a 200 meter long concrete ramp on which there is no ground anchor.
The vessel have to be launched before the coming typhoon so no time to build ground anchor for winch installation. The worse is beyond concrete ramp there are 20 meters silty riverside.
How to start the ship launching and how to prevent vessel from slip before the launch are most concerned by Eversafe engineers. After several times calculation Eversafe technical teams made an ingenious launch plan that control the vessel's stop and start by adjusting vessel's tilted angle. Marine airbags can be inflated and deflated to work at different heights then people can adjust airbags' pressure to adjust vessel's tilted angle. When the slip force is bigger than friction force then vessel will start to move, otherwise it will stay in position. Only people know exactly the friction coefficient and can do exact control of marine airbags such plan can be performed.
In low tide period, the mud of riverside was cleaned by excavator grab and some sand bags were placed to fulfill pits on the riverbed. To jack up vessel marine airbags at the stern were fully inflated and airbags at the bow only partly inflated, After the ship was totally lifted, people removed support blocks and adjust the ship to be slightly retroverted to ensure its safety.
In high tide period, when water reached schedule one height marine airbags were adjusted carefully to low down the stern. As the water level went higher, people began to inflate airbags at the bow to make the ship tilt forward but not exceed the angle of 0.008 radian. When the water reached the scheduled launch level, an excavator grab began to push the bulbous bow to give vessel a start force. When ship get a obliquely upward push force its tilt angle will easily exceed the 0.008 radian because of the flexibility of marine airbags,.Then ship started to slowly moved and went into the water smoothly with rolling airbags.
The flexibility of marine airbags can remedy the practical limitations in some projects. By adjusting working pressure of marine airbags people can adjust ship's tilted angle according to the need. If people want to get a bigger slip force they can lower the stern and lift the bow by giving different inner pressure to airbags. On the contrast If the angle of ramp is fairly big, people may do the reverse to reduce the slip force. The convenience and flexibility make marine airbags become the powerful tool for many engineering projects such as ship launching, landing, salvage, heavy conveying ,etc.
News from :
http://www.eversafe-marine.com/media_details.aspx?cid=1&id=108