How will the 'ghost fleet' affect the British high street?
With hundreds of cargo ships sitting empty off the coast of Singapore, will there be enough gadgets on sale at Christmas to give the high street the economic boost it so desperately needs?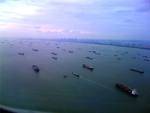 It's not as if we need another illustration of the unequal division of supply and demand in the cargo shipping industry at the moment, but the depressing image of hundreds of vessels off the coast of Singapore cannot fail to provoke a reaction. 

Known locally as the 'ghost fleet', there are over 500 oil tankers, cargo ships and large vessels just waiting for an order, a charter or a purpose. Before the great global recession, such ships would have been steaming up and down the seas of Asia and Europe, delivering huge loads of consumer goods just in time for Christmas. Now that these goods are no longer being bought in such large numbers, the previously booked-solid ships are all dressed up with nowhere to go. 

Representing around 12 per cent of the world's container ships, these idle vessels are set to make an even bigger impact on the European consumer goods market than they are on the bewildered Singapore dockworkers and local fisherman. 

Martin Stopford, managing director of Clarksons, London's biggest shipbrokers, explained, "The supply of container ships is growing. Supply is up by around 12 per cent with demand down by eight per cent. Globalisation and shipping go hand in hand. Worldwide, we ship about 8.2 billion tons of cargo a year. If the total goes down by even five per cent or so, that's a lot of cargo that isn't moving and a lot of ships that aren't needed."

As September and October are traditionally the months that the latest gadgets are shipped to Europe from Asia in time for Christmas, it's hard to know if there will be enough consumer goods in the shops in time for all that pester-power to take effect. With the British high street in desperate need for a real boost this Christmas, having no products to sell if the demand is there will be a real kick in the teeth.