Higgins Boats Continue To Tell WWII Story in New Orleans
Landing craft's design and massive production credited with winning World War II and are the reason WWII Museum expands today in the Big Easy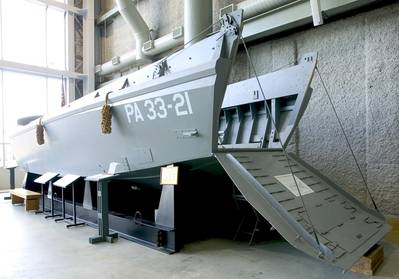 The National World War II Museum held the grand opening of its new 70,000 square-foot expansion today in New Orleans and the centerpiece of the entire experience continues to be a single revolutionary vessel design, which many credit for the United States and its allies' victory in both the European and Pacific theaters.
In 1938, Higgins Industries was a small boatyard in New Orleans, employing less than 75 people. However, after company owner Andrew Jackson Higgins designed and marketed a new type of landing craft that enabled personnel and equipment to deploy to land without traditional harbors – the company grew to seven plants with more than 25,000 workers delivering more than 20,000 boats just five years later.
"Higgins Boats" were used in every major American amphibious operation in World War II, including D-Day in Normandy. Gen. Eisenhower said years later that Higgins "won the war for us."
Due to the New Orleans boat builders' contributions to the war effort, the National World War II Museum (originally known as the D-Day Museum) opened in June of 2000 – a dream of the late historian Stephen Ambrose.
Visitors to the museum can see a full-size replica of the landing craft and can now experience actually landing on Normandy Beach in a 4-D cinematic production called "Beyond All Boundaries" by executive producer and Oscar winner Tom Hanks. The production is the cornerstone of the expansion, which opened today with a flyover by military jets and star-power from Hanks, Patricia Clarkson and Mickey Rooney, along with 350 WWII veterans and 4,000 invited guests.
The museum tells the story of the American experience in the war, why it was fought, how it was won and what it means today. The museum founders are working to expand the experience further – building an additional six-acre, 300,000 square-foot campus that will feature three new buildings and parade grounds by 2015.
For New Orleans and the Gulf Coast, the museum is a treasure and its purpose – truly humbling. But the region would not have made a blip on the radar of the Greatest Generation had it not been for a single boat builder with a vision and the determination to give America's soldiers the tool they needed to win a war.