HEARD ON THE PIER
MONACO WRAP-UP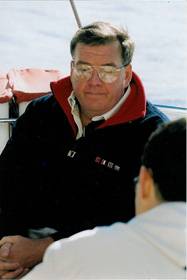 HEARD ON THE PIER
It depends on to whom you talk and even then reality is something completely different – in superyachts at least.
As the air-conditioned carpeted tents (or marquees, if you prefer) were coming down Saturday evening in
Port d'Hercule Harbour in the Principality of Monaco
and many of the exhibitors began looking towards the Fort Lauderdale Boat Show ("FLIBS") or Singapore it
was difficult as usual to get a clear picture on the overall state of the superyacht industry. 
"Even if they lay them up, they still need a crew."
Bottom-line, if you were providing services to superyacht crew, particularly recruitment and training, things look pretty rosy and companies like Moore Stephens Yachts
www.

moorestephensyachts

.com
were actually launching comprehensive crew packages.
Indeed there didn't seem to be the hint of a frown among the plethora of companies that match crew to jobs in the yachts. The Captains' Hideout, a lounge especially for yacht crew, bustled as usual. Sadly though, this is not such a reliable indicator as the crews are provided free (big) breakfasts and lunches with an all-day open bar.
But buyers of the yachts themselves seemed very thin on the ground and talk of multiple yacht repossessions scheduled for the hours just after the show did nothing to cheer discouraged builders. 
"I know for a fact that there will be 6 repossessions out there after the show closes tonight."
I spoke with a VERY BIG builder FOR EXTENDED PERIODS ON SEVERAL OCCASIONS - the fact that for the very first time at a big show I was even able to speak to him FOR EXTENDED PERIODS ON SEVERAL OCCASIONS was perhaps the most telling.
"You see that book over there, Bransom; those are my leads from this show; eighty five in there, and they all are trying to sell me something; this year this show is just a big industry party."
Indeed a yacht magazine publisher friend, who was having a very successful Monaco by the way, said this might be the last time for a quite few builders.
"They'd paid their 100 grand for the stand so they had to come; let's see if they're here next year…."     
Sadly the promised Devonport Yachts announcement was cancelled but talk about a tie-up with
Pendennis Shipyard and A&P Falmouth to build very large yachts under that brand continued.
As did talk of a pending sale of
Blohm

+

Voss
by
Thyssen
Krupp. Of course lots of people suspect the buyer will be
Abu Dhabi MAR
www.

abudhabimar

.com
.
Another friend who is an editor of a title that has been going from strength to strength said that her title was the one in that respective publishing stable that had lost the lowest percentage of its ad revenue.
"No, it's VERY tough out there."
Having said that, representatives of  
www.superyachts.com
seemed bullish as they put the finishing touches on their purely online offering to be launched in Fort Lauderdale.
Most of the brokers seemed happy but skeptics would say they will be making money regardless, albeit in smaller tranches, as long as people try to dump their yachts.
Anyway, Nick Edmiston sailor and godfather of probably the most famous brand in superyachts
www.edmistoncompany.com
 had plenty of time to chat and lots of smiles when we spoke. 
But to be fair, it was Sunday, the day after the Monaco show. 
And curiously, with no one looking at them, they didn't seem to be at anchor out there very long.
-end-