Going in opposite directions
Corporate and government control of ports are put to the test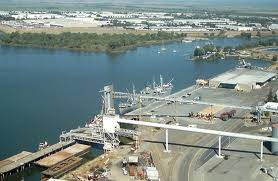 Should you go corporate or get the local government/authority to own and operate a port? Two ports in the US have just taken opposite decisions and in the process taken the opposite track to what they were doing.
At the river port of Sacramento a division of SSA Marine, SSA Pacific (set up about three years ago) is taking over the master lease at the Port of Sacramento, meaning that the city is tired of playing a losing g hand. The five-year lease will bring $650,000 to West Sacramento each year. The company leasing the port has also agreed to forgive the $850,000 the city owes it.
Since 2006 hopes have risen and fallen at the port, about as often as the delta tide that flows into the San Francisco Bay. Breakbulk, containers and barges have been mooted in various forms. Oakland even got a look in, with an operational agreement that faded away. A mobile $5 million crane was bought a couple of years ago to handle containers, supposedly for the barge service, but this has been mostly idle.
As for the barges? Stockton has fiddled around, with the most recent development being Savage taking over the project's management. No one knows when the barges will start doing business – the original date of July this year is forgotten. Sacramento seems to have been dropped from the service, which is likely to be to Oakland only.
Part of Sacramento's problem is dredging, with the 30 foot draft a severe limitation on ever getting any meaningful shipping traffic. Rice, as ever, is still the mainstay at more than 90 percent of goods being handled.
Virginia on the other hand is doing the opposite. The state government is taking over the whole operation and reducing Virginia International Terminals to a shell with no executive powers. This move has been brought about by APM Terminals offering to manage everything. Knowing the mindset of Maersk, the new arrangement was considered a possibility but seen as leading to long-term problems for the state, although former Marad boss Sean Connaughton (now boss of transportation in the state) is not a man with such poor judgment.
 The thinking among the maritime industry is that Sacramento should have gone for corporate management a long time ago while Virginia could be entering some choppy water.