Giovanni da Verrazzano
The virtually unknown explorer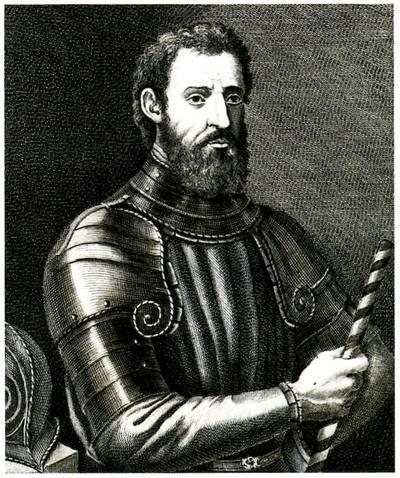 Most of what we think we know of the life of Giovanni da Verrazzano is speculation.
We think that he was born in 1485 near Florence, Italy, but he may have been born in Lyon, France.
We think that his family name was Verrazzano, but it may have been Verrazano.
He signed his name as Janus Verrazanus, except for his will, where he called himself Jehan de Verrazane.
By 1506, he was a master mariner living in Dieppe.
There is speculation that he sailed for several years as a privateer, becoming wealthy by attacking Spanish and Portuguese vessels under letters of marque issued by the King of France.
In 1523, the King commissioned Verrazzano to explore the coast of what we now call North America north of the Spanish claims in Florida, looking for a route to China.
The four ships in the expedition encountered heavy weather in the North Atlantic – two were sunk and the other two sustained substantial damage, whereupon they returned to port.
Verrazzano departed again in early 1524 and made landfall near Cape Fear, North Carolina.
He sailed north.
Spotting Pamlico Sound, he described it as a large lake with possible access to the Pacific Ocean.
Missing the Chesapeake and Delaware Bays, he next came ashore in New York Bay, where he was the first European to see Manhattan Island.
He noted the Hudson River, but did not enter it.
He then sailed along the south shore of Long Island and turned north at Montauk Point to enter Narragansett Bay.
After a meeting with the local Wampanoag Indians, he sailed up the coast of Maine and visited Nova Scotia and Newfoundland before returning to France.
Verrazzano named the region Francesca in honor of Francis I, King of France.
The map, though, was labeled Nova Gallia – New France.
In 1527, he led a small group of ships to the coast of South America, where they collected a valuable cargo of Brazil wood.
In 1528, he made his third and last trip to the New World, exploring Florida, the Bahamas, and the Lesser Antilles.
While anchored off what is assumed to be Guadeloupe, he came ashore in a small boat.
He was captured by the native Caribs, killed, and eaten (the term cannibal is derived from the name for the Indian tribe).
In large part because the French did not follow up on his 1524 discoveries along the east coast of the United States, Verrazzano is largely forgotten.
The most significant geographic location bearing his name today is the Verrazzano (or Verrazano) Narrows between Brooklyn and Staten Island.