French shipbuilder is saved
A difficult year has come to a positive end as French shipbuilding company Saint Nazaire Marine is given an Eiffel boost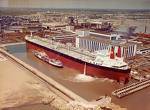 With its long history of maritime activities, particularly ship building, the coastal town of Saint Nazaire in Western France had a tough time acclimatising to the fall in its fortunes. 

As the shipbuilding industry took a big knock from the global economic crisis, the bulging order book and profitability of the shipyard at Saint Nazaire in the Loire Atlantique also felt the affects. 

Saint Nazaire Marine, the ship repair company created by Christian Mennesson in 2005, had barely had time to find its feet before the downturn hit. Having been revived from bankruptcy by Mennesson, a former submarine commander in the Navy, the shipyard and its 63 employees were frustrated to see the negatives affects of the crisis so soon. 

The good news is that the positive activities of Saint Nazaire Marine have resume this week following its acquisition by French group Eiffel Industry, who have confirmed it will retain all staff and focus on continued development. 

Mennesson is clearly pleased with the transaction and he will now take a role within Eiffel Industry. "It's a very good thing for everyone," he explained. "With the increased activity pending there was a higher risk and a need to stabilise the company financially while still pooling skills."

This increased activity is illustrated by the recent order of giant cruise liner the Norwegian Epic, which will go some way to realising the company's goal to generate eight to ten million euros in 2010. Now named Eiffel Marine Industry, the company is keen to get back to the €8.5 million turnover of Saint Nazaire Marine as quickly as possible, although with the added guarantees of providing a strong, stable operating base with long-term profitable projects. 

At a time when we're all keen to get hold of a bit of good news for the marine industry, the fact that this historic commercial marine region is seeing increased belief in its skills and continued demand is good for us all.