French ports of HAROPA brings Indian sub-continent closer
Visiting trade delegation from ports of Le Havre, Rouen and Paris are successful in creating interest among their Indian counterpart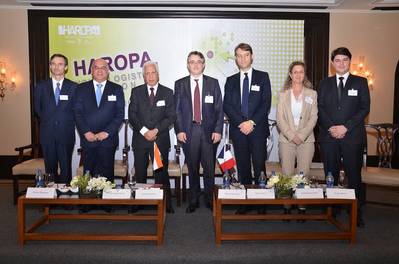 The recent visit of the trade team from HAROPA which constitutes the ports of Le Havre, Rouen and Paris is likely to put trade between the Indian ports and HAROPA on a fast track. Led by Herve Cornede, Director, Commercial and Marketing, HAROPA Ports, the French delegation visited Chennai, Delhi, Ahmedabad and culminated their tour in Mumbai. Lot of interest is said to have been generated in each city where they met top government officials, leading personalities from the shipping, ports, logistics sector as well as prominent importers and exporters. 
Capt. Avinash Batra Chairman of Seahorse Group, who represents HAROPA in India, stated at the meeting in Mumbai, "HAROPA was a new and the biggest initiatives and a place where one would want to be in. Le Harve is a preferred port of call with most major shipping lines. HAROPA being the largest French ports for container trade, it is also the first major port of call for containerships at the entrance to North Europe with 2.9 million TEU (maritime + waterway trades).  Presently, Le Havre is connected to 8 Indian ports including Kandla, Mundra, Nhava Sheva, Cochin, Tuticorin, Chennai, Haldia and Kolkata. Container trade between HAROPA and India accounted for 540,000 tons (estimate) in 2012, that is a 6% increase against 2011. Significantly, France is the largest trading partner for India among EU countries.
Highlighting the salient features of HAROPA, Mr Cornede said it handled 130 million tonnes of maritime and river traffic and was the largest logistics hub in France with 2.6 million sq. m of warehouses and is well connected to a vast hinterland through multiple modes. It is in the process of seeing further investments to the tune of 1.2 billion euros in the coming years. HAROPA ports cover the 8 strategic commercial business units of containers, logistics, chemicals, cereals, automotive, energy, out-of-gauge and heavy lift cargo, and industry. Also it offers connections to nearly 500 ports worldwide and was serviced by around 50 container shipping companies;
Indian entrepreneurs were impressed with the services offered at HAROPA including rapid, secure, easily accessible and low-cost customs clearance and a time limit of 6 minutes for its completion. The one-stop port shop which traces all operations owing to the interconnection with the Cargo Community System AP+ and the single data management via the CCS AP+ software guaranteeing a easy and simple use evoked interest. This is something that needed to be replicated in Indian ports.
Considering the extensive facilities offered by HAROPA many from the Indian side indicated interest in using the HAROPA port especially Le Harve. In Mumbai the Chairman of Jawaharlal Nehru Port (JNPT) L. Radhakrishnan hoped to have signed a Memorandum of Understanding (MoU) during the trade delegation's visit. But he informed that this could not happen because the draft of the MoU was awaiting the approval of the Ministry of Shipping, Government of India. 
Recommending to the trade the use of the facilities of HAROPA Capt. Deepak Tewari, President of MSC Agencies India said "Le Harve port is a benchmark in Europe for Ocean carriers. The Indian trade should get a taste of the interface HAROPA offers in Europe. Above all it offers a seamless logistics hub into Europe and MSC would plans to enhance the number of services it presently offers.