For the Holidays, Help a Seafarer
Please consider making a contribution in support of a seafarers center this holiday season.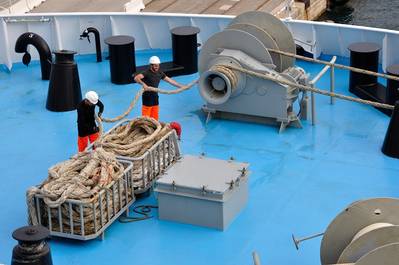 Thanksgiving marks the start of serious shopping for the holiday season.
Black Friday, Cyber Monday and deep discounts will motivate tens of millions of American's to purchase presents for friends, loved ones and colleagues.
And of those millions upon millions of American consumers, few will give any consideration on how their gift actually made it to a store shelf or delivered to their front door. Even fewer will think about the women and men onboard vessels, working in anonymity, far from their families and often in dangerous conditions, allowing the rest of us to enjoy the holidays.
Whether one works onboard a tug moving barges on the Mississippi, a containership in the Pacific or a tanker calling gulf coast refineries, life onboard ships is done in isolation, far removed from loved ones. It can also be tedious and alternate between boredom and episodes of terror.
But in the coming weeks as we enjoy our holiday meals with our families, many of those who work on ships will be thousands of miles away from family and, as Jimmy Buffett sings, spending their "Christmas in a harbor on the hook."
That is where local Seafarers Centers play an important role - providing basic necessities of life, opportunities to communicate with loved ones, pastoral care if needed or simply lending a sympathetic ear. As nonprofit organizations, Seafarers Centers rely heavily on volunteers. Like the seafarers, the volunteers are equally invisible, quietly providing a little bit of humanity and comfort for an underappreciated workforce.
Seafarer Centers deserve our support. Sadly, these Centers and the seafarers they serve are not appreciated by the general public or the supply chain. There is an expectation of timely delivery with little recognition or appreciation for how a product arrived at its final destination. With the holiday season upon us, it is time for those of us in the supply chain to support our local seafarer center. Please consider making a contribution in support of a seafarers center this holiday season.
If you want to know more about seafarer centers, here is a partial list:
***

John McLaurin has served as President of the Pacific Merchant Shipping Association (PMSA) since 1995. With offices in San Francisco, Long Beach and Seattle, PMSA is a west coast maritime trade association representing ocean carriers and marine terminal operators on a variety of local, state and federal issues. In addition to PMSA, McLaurin has also worked for the Marine Spill Response Corporation, American President Lines and the American Petroleum Institute. McLaurin has a Bachelors Degree in Political Science Public Service from the University of California at Davis and a law degree from Southwestern University School of Law. He has previously served on the Board of Regents of St. Mary's College in Moraga, Calif.; the California Oil Spill Technical Advisory Committee; Board of Directors of the San Francisco Marine Exchange; member of the Seamen's Church Institute Development Committee; San Ramon Valley Unified School District Special Education Task Force. He was a recipient of the 2013 Connie Award.