Evergreen Ship Launching Airbags: An Effective Flexible Launching Technology
Evergreen Marine Airbags for upgrading and launching is an advanced technology with bright prospect which has got over the shortcoming of previous ship building factory's traditional technology and developed into a flexible upgrading and launching technology, with such advantages as labor saving, time saving, strength saving, investment saving, being flexible, sate, reliable and obvious economic benefit.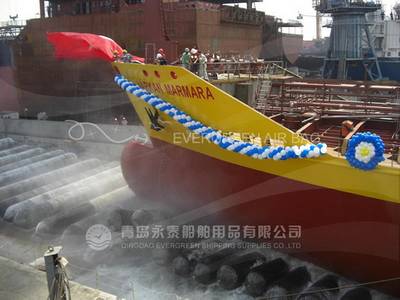 Technical Research of ship launching using airbags
Technical Research of ship launching using airbags
Abstract:  By comparing the traditional ship launching technology with Evergreen innovative "Flexible Launching TechnologyTM ", we hope this kind ship launching airbags can be used by more and more shipyards. Sequentially promote the developments of shipbuilding industry under current economic crisis.
Keyword: ship launching, ship launching airbags, shipping airbags, marine airbags, evergreen airbags, Flexible Launching TechnologyTM , Holistic Screw Type Enlacing TechnologyTM 
General
The ship launching slipway, which spend high investment, is the key construction of shipyard. In order to meet the requirement of high-frequency and moderate tonnage shipbuilding, and innovate traditional ship launching construction and research new type ship launching construction, CSSC issue CB/T 3795-1996 (air bag for ship up to or down to launching way) and CB/T 3837-1998 (Technological requirements for ship upgrading or launching relying on air-bags) as industry standard, which supply the basal criterion. Subsequently, Qingdao Evergreen Shipping Supplies Co., Ltd innovate Flexible Launching technologyTM, and Holistic Screw Type Enlacing Technology, thereby become the leader of launching technology.
......

 
Ship launching by Evergreen Airbags is a highly innovative and promising technology. It overcomes the defects that small and medium shipyard capacities are limited by: the fixing slideway. Additionally, this technology also supplies another way for shipyards that do not have a fixing slideway. This technology resolves the production problem of a single slideway and also saves the expensive investment in a fixing slideway.
The operation process of the technology is very simple and saves labour and time. Additionally, there is no fee for slideway construction, infectant oil is not needed and the airbags can be re-used. Hence it is very economical. As one kind of recyclable technology, it has the properties of circular economy and sustainable development. It can create remarkable social and economical efficiency.
When launching large vessels, a vessel can easily be damaged due to the property of solidity of the slideway and huge buoyancy at the moment when a ship is launched into water. Our flexible launching technology overcomes this problem because of the airbags' flexibility. In conclusion, the Flexible Launching Technology is labour-saving, time-saving, flexible, economical and safe

To get the more information, please visit our website http://www.evergreen-maritime.com