Edmund M. Blunt
Forgotten pioneer of nautical charting and publishing in the United States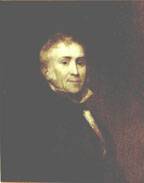 Edmund March Blunt (1770-1862) was one of America's first hydrographers.
He published some of the first nautical books and charts in the United States.
The "American Coast Pilot" was first printed in 1796.
It went through 21 editions before being taken over by the federal government in 1867.
The American Coast Pilot provided sailing directions from Passamaquoddy, Maine to the Strait of Florida.
It included soundings and bearings of the lighthouses and beacons (such as there were) from rocks, shoals, ledges, etc.
The volume also had courses and distances between numerous locations, settings of the currents, and tide tables.
The book was extremely popular with ship owners and masters and lives on today as the Coast Pilot published by the National Oceanic and Atmospheric Administration (NOAA).
In 1799, he retained Nathaniel Bowditch to update the British publication "The New Practical Navigator" and adapt it to American needs.
The third edition, published in 1802, had been significantly altered from the original and was renamed as the "American Practical Navigator".
We know it now simply as "Bowditch".
Few people today are aware that the originator of both publications – the Coast Pilot and Bowditch – was Edmund Blunt.
He also compiled some of the first detailed surveys of major US east coast ports, from Boston to Charleston.
The standards he established in 1796 for accuracy and thoroughness continue today as a worthy legacy to a major, but largely forgotten, figure in American nautical history.