dynamic responses determine stability at sea
Trim and Stability calculations perform a static snap shot of stability. Stability underway is quite different and can best be determined by measuring dynamic responses as a vessel transits in wind and waves. Ocean Motions makes such a sensor called the STABILICUBE.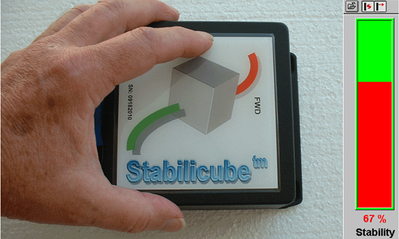 Stabilicube…tracks changes in stability as waves sweep thru, winds gust, liquids transfer via open cross connects, tanks slosh, cargo shifts, water is still trapped on deck, towline angles and tensions change.
Stabilicube takes the guess work out of operations at sea.
Stabilicube dynamically knows what your static stability calcs cannot tell you. 
Many vessels are operating with much lower levels of stability than their Trim & Stability books or loading computers indicate. 
 
This intelligent sensor also gives instant feedback on whether your new heading or speed have made things less safe.

Stabilicube is currently in use onboard anchor handlers, OSVs, tugs and is the result of 39 years of development by Ocean Motions Company in Florida USA.