Drillship Noble Discoverer
Drillship selected for exploratory work in the Chukchi Sea.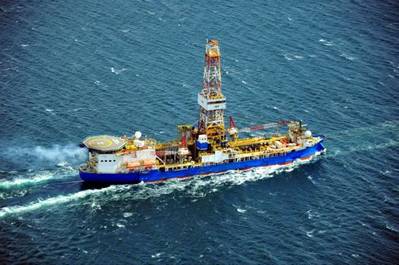 The drillship Noble Discoverer began life in 1966 as a bulk carrier.  It was converted into a drillship in 1976 and has been regularly upgraded since then.  Most recently, it was drilling oil and gas wells off New Zealand.  At that point, it was acquired by Shell Offshore to drill exploratory wells in the Chukchi Sea off the Arctic coast of Alaska.  It has a fairly standard ship hull, with a length of 514 feet and a breadth of 84 feet.  Its gross tonnage is 13,485 tonnes ITC.  After it was announced that the Noble Discoverer would participate in drilling the Alaskan Arctic oil and gas wells during the summer of 2012, and while the vessel was still in New Zealand, Greenpeace activists, including Lucy Lawless of "Xena: Warrior Princess" fame, boarded the vessel to protest offshore drilling in the Arctic.  Soon thereafter, Shell obtained a federal injunction against Greenpeace preventing it from unauthorized boardings in US waters.  The US Coast Guard has initiated a formal rulemaking to establish a safety zone around the Noble Discoverer while it is engaged in exploratory drilling on the US outer continental shelf.  The drillship has been undergoing modifications in preparation for its new assignment.  The Bureau of Ocean Energy Management, Regulation, and Enforcement (now the Bureau of Ocean Energy Management – BOEM) approved the Shell plan for drilling exploratory wells in the Chukchi Sea and the Environmental Protection Agency (EPA) recently issued a Clean Air Act (CAA) Outer Continental Shelf (OCS) permit to construct and a Title V air quality operating permit for operation of the Noble Discoverer in shallow water of the Chukchi Sea.  Concurrently, the MODU Kulluk will be drilling exploratory wells in the Beaufort Sea.