Deeper Drilling In Shallow Water Could Save Shelf Work for O&G Service Companies
Some oil and gas service companies compared 2009 to the drilling drought of the 1980s, but new discoveries in shallow water could signal a turnaround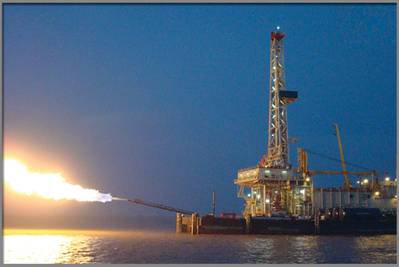 New Orleans-based McMoRan Exploration Co. reported this week what could be one of the largest oil and gas finds in decades in the shallow waters of the Gulf of Mexico, according to company Co-Chairman James Moffett.  McMoRan drilled more than 28,000 feet in its Davy Jones Prospect, which is located in coastal Louisiana in just 20 feet of water.
While McMoRan executives surely paused to celebrate the risky undertaking paying off, many vessel owners and operators along the Gulf Coast are hoping to be the beneficiaries of the company's strategy of drilling deeper for new discoveries in established prospects along the shelf.
Oil and gas companies that serve the deep-water platforms in water depths of more than 1,000 feet fared much better in recent years than counterparts servicing shallow water or shelf operations which have dwindled to two-decade lows. Utilization and day rates plummeted – especially in 2009.
Many analysts have written the Gulf of Mexico's obituary over the years only to see resurgences in activity again and again. McMoRan's strategy all along is to acquire prospects, put new geological knowledge to use and drill ultra-deep wells to tap previously unknown reserves in shallow water, where production is much cheaper and infrastructure is largely already in place.
Vessel operators that serve shallow-water facilities and shelf production would love to see more exploration firms follow McMoRan's lead. Each and every additional drilling rig and well translates to new business for the industry.
E&P companies are currently quite cautious in spending the billions of dollars it takes for deep-water exploration, due to recessionary and political concerns both in the United States and abroad.
 It was the "frontier" of deep-water development that revived the industry along the Gulf Coast in the mid-1990s, but it could be new technology energizing prospects explored decades ago that could once again breathe new life into the region.