Debt Situation Gets Smothered in Accounting Jargon
True picture is needed of port creditworthiness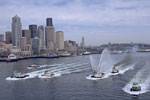 The Port of Seattle is yet another public entity that has been forced to cut its coat according to its cloth. The 2010 budget has just been approved by the harbor commissioners --operating expenses for the year reduced by 6 percent and a net operating income of $37 million, down from $51 million for 2009.
Staff are being slimmed – "an elimination of 110 positions," which means that some posts will be frozen, while people retiring will not be replaced.
So far, so predictable and miserable – for those who get the chop. But, there is one surprising aspect of the budget that needs attention. The maritime (this distinction is needed because the port also looks after the airport) revenue bond expenditure will be $13 million, compared with $15 million for this year.
Just why there is this drop needs some explanation, along with the fall in overall interest payments from $199 million this year to $192 million in 2010. The drop in interest rates over the past year must have some bearing, but can't be the only reason.
In fact, the matter of debt is a feature that most ports don't bother talking about, possibly because it doesn't generate a news buzz. Take a gander at Long Beach, where, gulp, it is something of an opposite story. Its debt service is up 73 percent to $331 million, slightly less than the capital budget – which the previous year was three times bigger.
 But we are told not to worry because the ratings agencies bestow a "highly rated" outlook on the $790 million debt. Some people are feeling even more perturbed – they remember the solid gold endorsements from the rating agencies on all manner of Wall Street companies, debt, leveraged securities, Collateralized Debt Obligations , Uncle Tom Cobley and all. Then along came the Great Recession. 
At Los Angeles the debt picture is not nearly as clear, because a different method of presenting the accounts is used. Its references are all about bond and interest expenses – also both down on the previous year – without going into detail as to how much is actually being shoveled into debt service.
Taken together, the three ports present an odd scenario. Each is being hammered (Long Beach the most, in terms of container volumes), each is laying off staff and each has trimmed its budget. Yet only Long Beach has given a clear picture on debt service – while the other two have not been grilled on the true state of affairs.
Partly the difference in presentation is because LA, for one, is a branch of the city council and so its finances are intertwined with those of the city.
Maritime watchers and investors note that the three ports have found time to join the West Coast sales promotion to China. The watchers want some sort of uniform analysis by all container ports as to their comparable debt situation – a much less glamorous but equally important task.