Cross Florida Barge Canal
Waterway converted to Greenway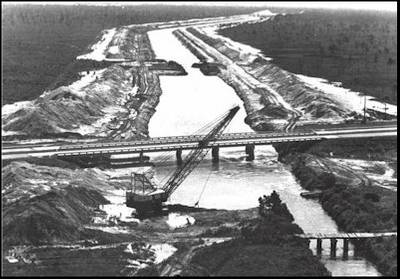 The Cross Florida Barge Canal was proposed as an artificial waterway to connect the Atlantic and Gulf coasts of Florida.
The idea was kicked around as early as the nineteenth century, when commerce between the Atlantic Ocean and the Gulf of Mexico was often prey to storms, groundings, and wreckers off the Florida Keys.
The Florida Peninsula is relatively narrow and includes no significant elevations, so the engineering challenges were minimal.
During the Great Depression, Florida politicians proposed the Canal as a public works project.
Funds were allocated in 1935, but only basic planning got started before the money ran out.
The project was reexamined in 1942 as a national defense effort to avoid German submarines, but again fell by the wayside.
President John Kennedy approved the project in 1963 and work started in 1964.
Plans called for a canal to be dug and for locks to be constructed from the St. Johns River at Palatka on the Atlantic side to the Gulf side, near Yankeetown.
The canal would be 107 miles long, with five locks.
It would have a width of 150 feet and a depth of 12 feet.
Environmental opposition, led by Marjorie Harris Carr, was intense.
The major concern was that the canal would permanently damage the aquifer of the peninsula.
The US Army Corps of Engineers, leading the construction effort, was not helpful in defending the lawsuits, as it had done minimal review of the environmental impacts.
In 1971, the federal court issued a preliminary injunction against further work, pending a more thorough environmental analysis.
Shortly thereafter, President Nixon officially suspended work on the project.
It was not until 1990, though, that the Cross Florida Barge Canal project was officially deauthorized.
The land that had been acquired for the canal right-of-way was deeded to the State of Florida for creation of the Cross Florida Greenway State Recreation and Conservation Area.
In 1998 the Greenway was renamed the Marjorie Harris Carr Cross Florida Greenway.