Christmas Island
A volcanic and phosphate island in the northeast Indian Ocean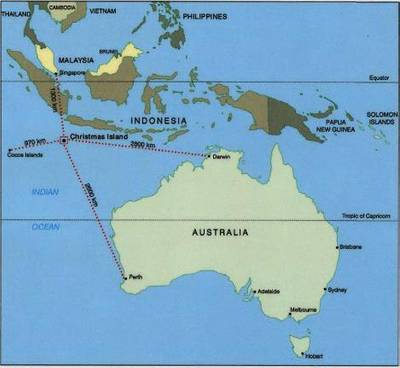 Christmas Island is a territory of Australia, located in the Indian Ocean approximately 1,600 miles northwest of Perth and about 200 miles south of Java, Indonesia.
It was uninhabited until discovered by Captain William Mynors (on the
Royal Mary
), employed by the British East India Company, on Christmas Day, 1643.
It was visited occasionally thereafter.
In 1888, the island was officially annexed by the British Crown when it was determined that the phosphate deposits on the island were commercially valuable.
A settlement was established at Flying Fish Cove on the northeast coast (the only significant landing on the island).
A phosphate mining and exporting operation was established, using mostly indentured workers from Singapore, Malaya, and China.
Japanese forces invaded in 1942.
Their plans to export phosphates back to Japan never succeeded.
Allied forces waited until October 1945 to reoccupy the island.
Sovereignty over Christmas Island was transferred to Australia in 1957.
Phosphate mining in significant amounts on the island ended in 1987, but continues at a small scale.
Beginning in the late 1980s, boats carrying refugees started arriving on the island.
The Australian Government took an increasingly hard line with regard to granting asylum.
In 2001, the container ship
Tampa
, which had rescued 438 refugees at sea, was denied permission to land them on Christmas Island.
Legislation was later enacted to exclude Christmas Island from the Australian migration zone, so that refugees landing there could no longer automatically apply for Australian asylum.
The island encompasses approximately 52 square miles, of which over 60% has been designated a national park.
Much of its flora and fauna is unique.
Kirimati, a Central Pacific atoll in the Republic of Kiribati, was previously known as Christmas Island, having been discovered by Captain James Cook on Christmas Eve, 1777.  There is also a very small Christmas Island in Bass Strait between Tasmania and the Australian mainland.