Chicago Sanitary and Ship Canal
An example of the law of unintended consequences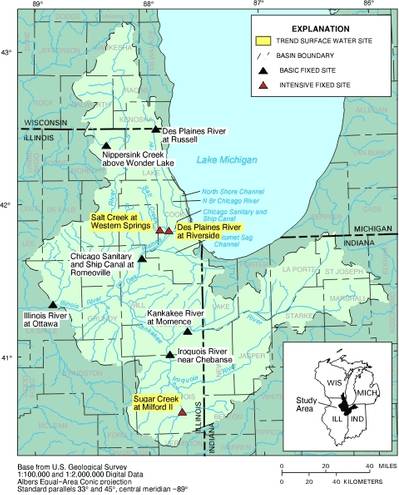 What is now the Chicago Sanitary and Ship Canal started out as the Illinois and Michigan Canal in 1848.
This was a lengthy (96 miles) water route from the Chicago River at Bridgeport to the Illinois River at LaSalle-Peru.
It included seventeen locks and, like the Erie Canal, had paths on either side where the mules and their attendants walked as they pulled the boats.
In the 1880's, it became apparent that the sewage disposal method utilized by the City of Chicago (pumping into Lake Michigan) had become inadequate.
A drainage canal, eventually called the Chicago Sanitary and Ship Canal, was built largely parallel to the Illinois and Michigan Canal.
It was much larger than the old canal and involved an actual reversal of the flow of the Chicago River.
In addition to serving as a conduit for sending Chicago's processed sewage down the Illinois and Mississippi Rivers, the new canal (24 miles long, about 200 feet wide, and about 24 feet deep) also serves as a navigation link between the Great Lakes and the Illinois-Mississippi basin.
This link now supports a fairly substantial tug and barge industry.
Numerous businesses have been established along the canal and on nearby waterways that rely on this transportation link.
Unfortunately, the Asian carp has infested the Mississippi River basin.
This nonindigenous species was introduced into catfish farms in the Arkansas area in the 1970's as a means of keeping the pond water clean.
Some of the carp escaped and have become widespread in the river basin.
They tend to crowd out native species, particularly game fish.
There is great fear that, if the Asian carp reach the Great Lakes, they will devastate the rich game-fish grounds and have a significant negative effect on regional economies.
The US Army Corps of Engineers constructed an electric fence in the canal near Romeoville in an effort to stop the Asian carp from moving up into the Great Lakes.
There is some evidence that the carp have gotten past the barrier.
Some to the states bordering the Great Lakes have brought suit in the US Supreme Court seeking closure of the canal.