Canada harrumphs over ballast water
The maritime industry takes another hit from the Big Brother over the border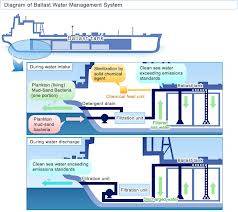 You can be paranoid and they can still be watching you. Canada has reason to feel aggrieved and victimized by the US over maritime rules.
Following on from the Harbor Maintenance Tax, along come the US Ballast Water regulations. (Detailed requirements for organisms greater and lesser than 50 micrometers; Vibrio cholera, Escherichia coli and Intestinal enterococci). Says the Canadian Shipowners' Association: ""We believe that a flexible approach that builds on recent successful efforts to mitigate risk will still allow for current levels of competition and risk management and will reconcile protection of the marine environment with the economic viability of our industry and those that we support," (Robert Lewis-Manning, CSA President).
"When our industry faced a similar situation in 2011 when the State of New York proposed regulations for ballast water discharge with excessively high stringency, our government was highly successful in obtaining redress from unattainable regulatory requirements; we are seeking the same continued assistance," said Wayne Smith, Chairman of the Board of the CSA.
The association says the cost of fitting the equipment will be $1 billion over the next five years, even though some of the technology to deal with the tiny particle sizes has not yet been invented.
Adding insult to injury, "the American regulations will distort commercial markets as it exempts all vessels that operate west of Anticosti Island, [at the entrance of the St Lawrence seaway]  which essentially results in the exemption of the American fleet while demanding that the majority of Canadian vessels absorb the cost of developing and installing technology," according to the CSA
Canada's worries are mostly directed at Great Lakes shipping and are a diplomatic attempt to veil its chagrin.
California also went radical on ballast water, but relented and has delayed implementation. As Dennis Bryant says: "This common-sense approach has taken a long time to see the light of day! For too long, California tried to force BWTS innovation by setting extremely high standards and extremely short deadlines. There is now recognition that one cannot legislate technology. BWTS will continue to improve. It is the role of the regulators to accommodate and facilitate those improvements."
Let's hope the US takes a common sense and fair approach to Canada.