Cabo Pulmo National Marine Park
A small marine reserve with a highly diverse biosphere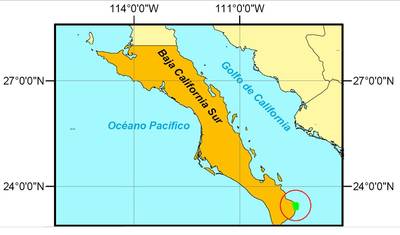 Cabo Pulmo is located at the southeast end of the Baja Peninsula, approximately 27 miles northeast of Cabo San Lucas.
It lies at the point where the Sea of Cortez (also known as the Gulf of California) joins the Pacific Ocean.
There is a small fishing and farming community and a small resort, appealing primarily to eco-tourists.
After a number of years of lobbying by local residents, in 1995 the Government of
Mexico designated 7,111 hectares (about 27 square miles) of waters immediately offshore as a National Marine Park.
This designation has eliminated commercial fishing and severely constrained recreational and subsistence fishing in the area.
Local residents actively participate in the management of the park and enforcement of applicable regulations.
As a result, marine life in the area has exploded.
Fish that were in decline, such as rays, are now common, forming large schools.
Seaweeds, sea grasses, and other marine plants are more prolific than before, and more numerous than nearby areas outside the marine park.
Migrating whales, particularly humpbacks and grays, congregate in the vicinity, attached by the profuse food source.
Marine invertebrates, such as mother-of-pearl and conch, have become common in recent years.
As the biomass increases, predator fish, such as yellow jacks, chubs, and mullets, visit those waters more frequently.
Sea turtles, such as the Ridley sea turtle and the leatherback, come to the area to feed and spawn.
Sea birds, including gulls, terns, pelicans, herons, and egrets are often found in profusion.
The Cabo Pulmo National Marine Park in only three miles wide and less than ten miles in length.
Despite its small size, it has shown that a well-placed and well-managed marine park can exceed expectations and significantly restore the local ecosystem.