Cable Laying Ops Begin on Trans Bay Cable Project
Cable laying operation in California.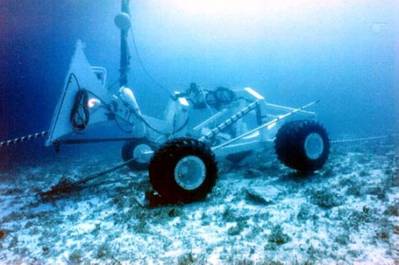 Trans Bay Cable (TBC) is an energy transmission infrastructure project designed to provide additional energy to the City of San Francisco. TBC consists of an approximately 53 mile long transmission line buried under San Francisco Bay to transfer already existing energy from an electric transmission system substation in Pittsburg to San Francisco. This energy transmission project will transport approximately 400 megawatts of hydropower, geothermal, and wind power.
The cable will run along a shallow trench on the San Francisco Bay floor. Dug using a hydro-plow to blast and remove silt, the process will be challenging as the topography of the floor possesses several obstructions.
The cable will be installed under the bay floor using the underwater hydro-plow operated by Prysmian Cables and Systems from the world's largest cable ship, the Giulio Verne. A barge will be used in selected areas where the minimum water depth for a ship is not feasible. According to environmental experts, the cable laying activity will have less impact on the bay than a winter storm or tidal action.

This particular cable laying operation is made possible with an advanced subsea hydro-plow telemetry system consisting of a communication and control system designed to support cable burial operations. Electrical power, communication, and control of the telemetry system are provided via umbilical cable. System controls are provided for a Water Depth Sensor, Jetting Water Pressure Sensor, Trencher Attitude (Pitch, Roll, and Heading) Sensor, Stinger Attitude Sensor (Pitch), Video Camera with Pan and Tilt Assembly, Video Camera (Fixed), Water Intrusion Sensor (Leak Detection), Lights (Video Illumination), and Sonar Systems.
Cable laying operations should conclude in early 2010 with commercial operation beginning shortly thereafter. Updates to follow as more information is released.