Automation is progressing at California ports
SSA Marine has been quietly moving along and has made significant strides at Long Beach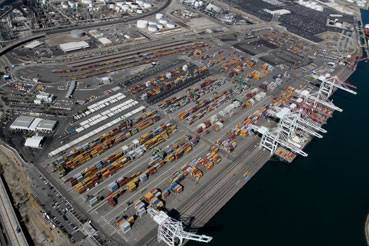 The rest of the world laughs in derision, but the truth is that terminal operators in California are doing their best to become more efficient and bring in automation.
SSA Marine is at the forefront of this and has been inching along for five years, principally at Long Beach. When the company first publically announced its plans,  the dockworkers' union, the ILWU, was very strident in its militant opposition and seemed to have stifled the initiative. So, SSA went quiet and opted for quiet diplomacy. Which seems to have worked.
Knud Stubkjaer, CEO and Chief Strategic Officer, gave an update at the Pulse of the Ports meeting at Long Beach on automation and the economics perspective of the operators.
As he noted, market volumes have not increased although shipping rates are competitive. As a result shipyards have lowered their asking prices for new vessels, that has in turn affected capacity. Lines have been reducing costs by going for bigger ships and, to get maximum usage, are combining their resources through slot swaps, alliances and vessel sharing agreements.
SSA itself is pushing IT through its subsidiary, Tideworks, but  Knud Stubkjaer says terminal operators have to work together to get rid of what he calls "idle time" in the intermodal and distribution system.
The company is concentrating on two locations to increase automation. Trucks enter through covered (enclosed) optical character recognition (OCR) gates that are averaging 98 percent accuracy on their readings, even for vehicles traveling at 30 miles an hour.
The driver stops at a "pedestal" and phones a booking clerk, who registers the details automatically. A computer screen at the pedestal tells the driver what position at the yard to go to.
Booking clerks work at one central location for the three Long Beach container terminals. "they enjoy that and productivity has increased," says Knud Stubkjaer. A real-time OCR network covers the container yard. The hostlers use an RFID system and, to speed up inbound deliveries, the transtainer driver can locate a box and move it to the top of a stack so that a minimum of time is wasted while the driver waits for the box to be hauled out.
Lasers are used for ship-to-shore movements, allowing the crane driver to get an exact assessment of the cargo bay just by hovering over it. Then the driver just has to punch a button to get things going.