Are Profits "Blowin' in the Wind"
Offshore wind energy business is projected to grow mightily to 2013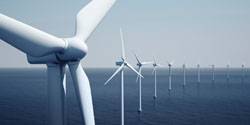 A recent report from Douglas-Westwood should be viewed in detail by anyone who currently, or hopes to make money from the growing offshore wind business. According to the report, offshore wind activity, despite the tough global economy and precipitous decline in oil prices, is at an all time high, and the next 24 months should see a significant year-on-year growth in terms of capacity installed from projects currently under construction.  While renewable energy is in vogue and offshore wind obviously shows the greatest ROI, it should be noted that the business of planning, installing, operating and maintaining offshore wind farms represents an excellent opportunity for technology providers in this space, particularly with the backdrop of an industry that is struggling mightily with development costs, which have more than doubled in five years, according to the DW report.
There is now more than 1.5 GW of offshore wind capacity installed worldwide, with 334 MW installed in 2008. At the time of the writing of the DW report, there was an additional 1.5 GW under construction offshore. Many projects due online between now and 2013 are otherwise engaged in tendering activity, pointing the way to continued growth ahead.
In all, DW anticipates $30.6 billion in capital expenditure is expected to be spent in the offshore wind industry between 2009 and 2013. By comparison, the previous five years saw a total spend of $2.6 billion. The huge rise in expenditure is down to two main factors. Firstly, a sharp increase in offshore wind project activity, and secondly, considerable cost increases in the industry.
According to the report, annual expenditure is forecast to peak at almost $8.8 billion in 2011, a busy year for the sector, driven largely by projects off the UK. Temporary increases in the number of Renewable Obligation Certificates (ROCs) allocated to offshore wind projects have spurred on projects. At this time we also see the first major commercial activity off Germany.
In addition, the rise in activity promises to spur activity in the traditional maritime sector, as quite simply the mammoth wind turbines are made at only a limited number of plants worldwide, and demand is springing up for specialty ships to transport, install and service them.
Ian Morgan, CEO of UK-based Graig Ship Management (GSM), recently said: "And as the blades are about 50 m long, and the towers up to 100 m, that means a new breed of ships with very long open holds. Some of the ships will be for transport only, and some will be used for installation on site, and later maintenance. We are currently overseeing the building of four very interesting ships designed especially to carry wind turbines. They are a Norwegian design by Polarkonsult AS and will be operated by Singapore-based SE Shipping. SE Shipping has a long term agreement with Suzlon Energy to move its India and China manufactured turbines to a number of installation sites. But they also want to expand into project cargoes, so they need a big lifting capacity for that."
While there is an obvious "gold rush" to participate in these projects, a recent mishap surrounding the tow-out of a wave energy device should serve as a cautionary note to all.

(Photo Credit: Wilhelmsen Ships Service)
Trident Energy confirmed that on Sunday, September 20, 2009 a problem during the deployment phase led to its demonstration wave generator overturning as it was being taken out to sea to begin its year-long offshore trial. The 80-ton platform was grounded three miles east of Southwold Harbor and made secure.