'America's Energy Coast' Could Benefit From Offset Plan
Carbon offsets could help restore Gulf Coast, which supports the nation's domestic energy industry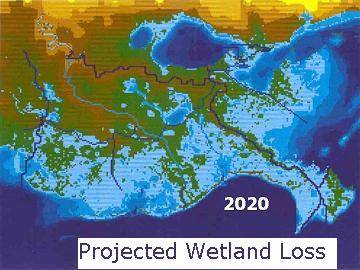 Texas, Louisiana, Mississippi and Alabama have long forged a bond to lobby together for coastal needs. The four states make up America's Energy Coast, an initiative of the America's Wetlands Foundation, to shed light on the region's coastal activities that drive the nation's offshore energy supply.
The region contributes 90 percent of America's offshore energy production, 30 percent of the nation's overall oil and gas supply and 30 percent of the seafood in the lower 48. Ten of the country's top 14 ports are here and countless harbors service the 15,000-mile Gulf Intracoastal Waterway.
 Much of this coast is not for tourists and beachcombers, but for those who have worked for generations on fishing vessels and offshore work boats.
It also serves as a habitat for millions of migratory birds and other species of coastal inhabitants.
But the region – the largest and most productive expanse of coastal wetlands in North America – is vanishing at an alarming rate: 25 square miles per year. Hurricanes Ike, Katrina, Rita, Gustav and others through the years have ripped away at Gulf wetlands.
Now – a little known function of wetlands could help them save themselves.
Recent climate and energy bills working through the U.S. House and Senate have stirred offshore energy companies with talk of cap-and-trade proposals, which basically sets a limit on emissions and creates a market for "polluters" to buy and sell emission permits.
Coastal wetlands absorb carbon dioxide, the gas blamed for warming the planet, and have a capacity to store much more carbon dioxide than – say an acre of forest.
As the most affected by coastal land-loss, Louisiana has lobbied for billions of dollars for restoration projects for decades to recoup land lost by the man-made levees trapping natural land-building sediments from the Mississippi River. However, oil and gas canals dug through the state's marshes allowing saltwater intrusion also draw blame from scientists.
If cap-and-trade is a deal-breaker in either bill and must be included, these coastal states would benefit greatly from the region's users' ability to help, while they continue to work.
The idea of wetland restoration credits is young, but sounds like the best idea yet for a win-win situation for coastal advocates and many energy firms, who already participate heavily in wetlands restoration initiatives.