AAPA 2017 Convention at Long Beach, CA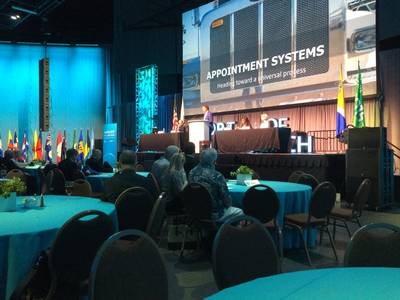 Long Beach, CA: The 106th Annual convention of the American Association of Port authorities kicked off in style on Sunday night with a gala reception in this vibrant port city, and two days later, the convention continues on with quality industry briefings and of course, plenty of networking opportunities for the many attendees who arrived from all over the hemisphere. There was something for everyone here this week, and as the impressive speaker lineup confirmed, it is indeed a busy and challenging time for all ports. As it turned out, the AAPA convention was the perfect venue to reflect on all of that, to look ahead to what comes next, and to gain insights on how to proceed in an uncertain world and business climate.
Port Econ 101
Among the many notable discussions that took place this week, there was perhaps none more valuable than the "Global Economics Trends" discussion that took place on Tuesday morning. Leading that session was Jock O'Connell, an International Trade Economist and Advisor at Beacon Economics. O'Connell also serves as an Economic Consultant to Sacramento-based PMSA. O'Connell brought the gathered delegates up to speed, but in the end, he and his panel asked as many questions as they answered. And it is that uncertain climate in which all port authorities and shippers – here and abroad – must operate and carefully plan for the future. Bottom line: it won't be easy.
O'Connell kicked off by declaring that, for many prognosticators, the economy finds itself in a sweet spot as we look ahead to 2018. Indeed, says O'Connell, the World Bank, the IMF and the WTO all project global year-on-year growth in the range of 3 to 4% in 2018. Moreover, at least 45 major economies are seen to be "in growth" and most of those are growing at a rate faster than was seen last year. It's all good; right? Well, maybe not.
O'Connell also laid out the challenges for ports in the future, most of which cloud the crystal ball for maritime trade forecasting. These areas include demographics, trade policy, climate change and environmental policies and of course, technology. Without discounting the importance of all four variables, it turns out that the first issue (demographics) may be just as important as the unpredictable issue of changing technology. That's because a many as 83 industrialized countries are now seen as having fertility rates that fall below replacement levels.
Predicting where population growth will come and where it will not is a key metric for any port authority as they plan for port growth in the right areas, collaborating with the right international stakeholders and predicting what cargo will go where in the next ten years. Here at home, for example, the South Carolina Ports Authority is betting on long term population and economic growth in the southeastern United States to fuel its growth for the foreseeable future. Two new inland ports with rail connections attest to their commitment to that business model. Others might not be as sure, and O'Connell and his panel members, within the time frame allowed, gave a more precise assessment for global trends as a whole. Nevertheless, this aspect of global trade is an important one.
Trade Policy – especially here in the United States – will be especially important, and place an outsized role for ports who hope to increase their throughput numbers in the coming years. To that end, the U.S. withdrawal from the so-call TPP agreement was characterized as a particularly bitter blow for California ports, which handle and touch at least 40 percent of every box that moves into this country from abroad. With many stakeholders – including Port of Long Beach Executive director Mario Cordero - calling the U.S. administration's move "a mistake," more than one expert cautioned that the rise of protectionism and so-called nationalism puts the maritime sector at risk.
O'Connell also shed light on the delicate subject of environmental policy and the regulatory machine. And, he cautioned that regulatory policies not universally imposed may influence where shippers take business, especially if those environmental regulatory costs are passed along to the beneficial cargo owners. Appropriately enough, then, was that this event was taking place in Long Beach, where collectively, the two ports of Los Angeles and Long Beach represent the largest gateway in North America and indeed, the ninth largest in the world.
Together, the two ports now face the unenviable task of bringing their cumulative port emissions to "zero" by 2030 – the so-called CAAP plan – while at the same time remaining cost-competitive to a host of port alternatives stretching all the way to Pacific Northwest Canada. The cost of those environmental improvements could exceed $15 billon. The two ports have a proven record of environmental stewardship, but with the low-hanging fruit now all picked, the final parts will be the hardest. As a personal observation, I've been coming to the West Coast on business for almost 30 years. Without a doubt – and I don't need an environmental consultant to confirm it – the air here is considerably cleaner than it was just two decades ago. Long Beach is nice place to spend a few days, with or without a good reason to come in the first place.
With CAAP now all but a done deal, the only question left is: who will pay for it? And, if California goes this route for all its ports, then will the cargo travel a little further up the coast to find a more economical gateway? That's the $15 billion question.
The hardest variable to predict, said O'Connell, was the advent of new technology and what that will bring to the waterfront in the coming years. He adds that technology, all by itself, is a good enough reason not to trust long term forecasts.
He finished by reading a dated forecast made by an unnamed consultant who – not too long ago, apparently – advised ports and terminals to get ready for those 5,500 TEU mega-vessels. This brought a laugh from the gathered throng of port stakeholders. But, O'Connell had made his point: short term predictions, in this case, some positive indicators, often give way to long term uncertainties. And, that's where we find ourselves today.
AAPA 2017: moving ahead in uncharted waters
This week's convention wraps up tonight with a gala celebration guaranteed to send these port executives back to work invigorated, and ready for what comes next. Before that can happen and underscoring the real uncertainties that face the greater global community, this week's event appropriately started with a nod of sympathy for those ports in the Americas that had been impacted by recent hurricanes (and the earthquakes in Mexico). Those ports, as they also try to chart what comes next, first must pick up the pieces. And, a somber moment of silence acknowledging this week's tragedy in Las Vegas reminded all participants of the uncertainties that exist for all of us, sometimes out of sight and just over the horizon. – MLPro
* * *
Joseph Keefe is a 1980 (Deck) graduate of the Massachusetts Maritime Academy and lead commentator of MaritimeProfessional.com. Additionally, he is Editor of both Maritime Logistics Professional and MarineNews magazines. He can be reached at jkeefe@maritimeprofessional.com or at Keefe@marinelink.com. MaritimeProfessional.com is the largest business networking site devoted to the marine industry. Each day thousands of industry professionals around the world log on to network, connect, and communicate.