A RAY OF SOUTH FLORIDA SUPERYACHT SUNSHINE
IF YOU CAN'T BUILD 'EM, FIX 'EM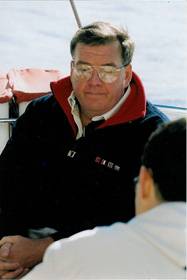 A RAY OF SUPERYACHT SUNLIGHT FROM SOUTH FLORIDA
In the world of Superyachts, perfect is just not good enough, as anyone who has had the opportunity to see yacht crew members clean using Q-Tips – no, REALLY – can testify. It's both a question of pride of ownership and also getting the highest weekly charter rate – some yachts regularly command weekly charter rates of close to US$ 1 million.
Like all ocean-going vessels, if we can be gracious and apply the term "ocean-going" to most superyachts, they require refits/overhauls quite simply because, whether they go out of sight of land very often or not, to be perfect means refits more frequent than what the owner of a bulker, say, might begrudge his efficient if slightly rusty ship.
A famous fallen flag among US superyacht builders is the brand name Broward.
This South Florida builder of over 200 yachts was founded in South Florida just after World War Two by Frank Dennison. Broward became the most prolific yacht builder of the 1980's and '90's. Sadly, and actually ironically given that the industry was exploding at the time, the yard fell on hard times and as a builder of new yachts had almost faded away until "rescued" in 2005 by a successful US real estate developer, Tom Lewis.
In the form of Broward Marine, the brand then struggled along until last summer when it looked like it was all over.
Enter US$ 3 million in seed money and, most importantly as any venture capitalist knows, a person with vision, in this case former employee and perhaps aptly named Butch Risker.
Risker has re-launched the 10-acre site (all waterfront real estate, of course) beside Fort Lauderdale's Port Everglades as a full-service superyacht repair and refit facility.
And it seems business already is brisk. The SUN SENTINEL reported, "On a recent Tuesday afternoon, six vessels were being worked on at the boatyard and another 25, ranging from 50 feet to 164 feet, were scheduled for servicing in coming weeks."
In the same piece Risker was quoted, "We've a damn good reputation in the industry."
Of course reputation is relative and for some the idea of taking a Broward out of sight of land was a risk akin to Columbus' first voyage of discovery. But there is no question the brand has a devoted following as demonstrated by a former customer who was quoted in the SUN SENTINEL as seeing this latest reincarnation as, "a huge relief."
Risker and his investors may be on to something because at the same time, neighbouring Dania Cut Super Yacht Repair
www.daniacut.com
, although only established in 2007, is completing dredging and other capital improvements that will allow them to handle yachts up to 300 feet. Before, their maximum length was 230 feet.
At least 1500 superyachts visit South Florida annually.  The Marine Industries Association of South Florida estimated that superyacht repairs brought in US $219.8 million in 2006.
But there's competition just to the east. 
At the end of the day, wherever they are, whatever the economic climate, superyachts always need two things: perfect crews and perfect repairs.
-end-