A PR Opportunity Wasted
2010 was designated by the International Maritime Organization (IMO) in London as the "Year of the Seafarer." Did you know about it?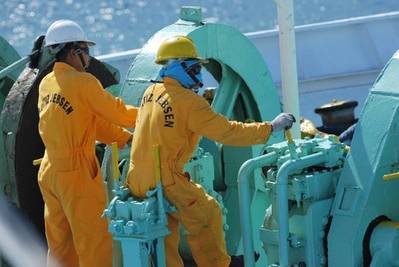 Original article appearing here: http://rhodescomm.com/_blog/Observations/post/A_PR_Opportunity_Wasted_/


By Jim Rhodes

Did you know that 2010 was designated by the International Maritime Organization (IMO) in London as the "Year of the Seafarer?" No? Don't feel lonely. No one else knew it either.
The idea of focusing the attention of the maritime industry and the general public on issues affecting the welfare of seafarers was laudatory, but unhappily it passed virtually unnoticed by the mainstream media.
As you may know, our company has been involved with the maritime industry for more than 25 years, and I spent many of my formative years as a young sailor at sea in the U.S. Navy, so this is a subject of professional and personal interest to me.
The sad fact is that there is an appalling level of ignorance in the public media when it comes to the shipping industry. I had hoped that the IMO's "Year of the Seafarer" might serve as an opportunity for the industry to reach out to the media and raise public awareness, but no such luck. I think it has been a terrible PR flop, and the IMO and other industry bodies should be ashamed of themselves for failing to seize this opportunity.


I can tell you that serving as a crewmember on a modern commercial ship is a tough occupation. It's an inherently dangerous environment. How dangerous? Take yesterday's news headlines from Safety at Sea International:
Four seafarers were killed today when a fire broke out aboard a general cargo ship off Busan, South Korea.
Japan Coast Guard rescuers are searching today for a missing captain after a chemical/products tanker reportedly sank off Japan, killing a crewman.
A crewman on Holland America's cruise ship Volendam has been killed during a lifeboat maintenance drill in Lyttelton, New Zealand.
Seafarers have locked themselves into a chemical tanker's citadel and waited out a pirate attack on the Arabian Sea.
Four US seafarers are today flying home to Florida from Spain's North African enclave of Ceuta, where they had been stranded 1 n-mile offshore for five weeks.
Two crew members are missing after a tank barge loaded with sulphuric acid sank in Germany this morning.



When have you ever seen stories like these reported in your newspaper or on the TV news?
Part of the problem is the nature of the shipping industry. Ship ownership and registration have always been murky, and the owners seem to like it that way. Ships change owners and flags often. Ships are put out on long-term charter and operated by ship management companies. European and North American-based shipowners register their vessels under national "flags of convenience," such as Liberia and Panama, and staff their ships with crews recruited from countries like the Philippines, Indonesia, Bangladesh and Croatia. It's not unusual for a ship to be abandoned by its owner in a foreign port and arrested by creditors with the wretched crew trapped aboard unpaid and in some cases even unfed while hordes of lawyers squabble over the rusting hulk, trying in many cases to figure out just who owns the vessel.
It seems the only time the mainstream media take notice of ships is when one of them runs aground and spills oil on the water, and the shipowner's PR department dusts off their crisis communication plans looking to dodge liability. 
Pity.
And if that weren't enough, did you know that at the end of 2010, 26 ships and 613 crew were being held by Somali pirates waiting to be ransomed, with the scores of international warships patrolling the waters off the Horn of Africa helpless to give them succor? No? Why is this story ignored by the media?
I return to my original thesis: It's a PR problem for the shipping industry.
But I'm running out of space, and I'll stow my soapbox for now. I'll return to the piracy story in my next post. 

Want to learn more? Click here Year of the Seafarer.