A new fillip for river and barge commerce
A hull is to be tested in the Midwest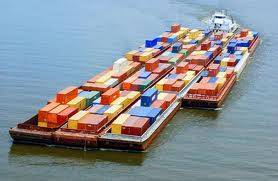 Putting containers on barges has been given new attention following a talk by Washington DC consultant Paul Pollinger. He told a recent meeting of the Transportation Research Board that this form of river commerce could reach $500 million a year.
The caveat is that federal funding is needed (a phrase that at the moment is causing almost physical confrontations on Capitol Hill), but would inevitably lead to better fuel usage. Mr. Pollinger reckons that the government department administration of the system could be shifted to the Department of Commerce if the DoT "hearts aren't in it" – a tactical mistake as government agencies love nothing better than to squabble with each other over power empires, because they can spend more time sending memos and lobbying their superiors and less doing real work.
Mr. Pollinger (who runs a company called Pollinger & Co) has contracted Argosy Boat Company of Louisiana to build a Mod 1 hull that will presumably be tested somewhere in the Midwest – Pollinger reckons the Illinois, Upper Mississippi and Ohio rivers are the systems that will benefit most.
Argosy president Dave Reidt is no novice when it comes to getting to the heart of the government.  "MARAD is totally unavailable for the little guy," Reidt said. "Our government talks a great game about things like the Great Marine Highway Initiative, which to date has done nothing but line politicians' pockets. The investment in our water borne systems and their vessels would return more benefits, such as immediate increases in high paying blue collar jobs, thousands of construction jobs fixing the deteriorated condition of our locks and dams, than anything else in Congress."
Most Maritime Professional readers support short sea and inland waterways and Pollinger's proposal needs publicising. I have tried to contact Argosy by both e-mail and phone but the website has some glitch and keeps coming up with error messages while the phone number connects to a voice mailbox.
So, Mr. Reidt, if you are reading this, please leave a comment to say how to contact you.