A comparison of the LA and Long Beach budgets
Long Beach is right there with its neighbor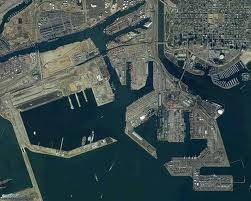 Long Beach has finally caught up with its bigger rival Los Angeles in terms of overall financial firepower for its forthcoming fiscal year. Both have budgets of just over $1 billion, but LA still leads in operating revenue at $413 million vs. $375 million.
In one other important respect Long Beach is ahead, with capital expenditure at $788 million compared with $400 million. The caveat here is that there are probably different views of what defines CapEx, such as the Gerald Desmond Bridge.
At Long Beach, container terminals will bring in $293 million (a 2 percent increase) and account for 78 percent of operating revenue.
LA forecasts cargo volumes to be slightly higher at 7.9 million TEU versus current FY 2012/13 estimates of 7.8 million TEU. Then comes an irritating clincher.
"Additionally, the Port is proposing a general rate increase tying increases to the Port's Tariff No. 4 rates to annual increases in the Consumer Price Index (CPI) for Western Urban areas; any increase is subject to Board approval each year. As a result, Shipping Services revenue, the primary driver of Port revenues, is anticipated to be 2.9 percent higher at $360.1 million compared to the FY 2012/13 estimate."
This is one of the thorny issues that carriers have been objecting to and which the Pacific Merchant Shipping Association has been fighting. There will be more objections and outcries during the year.
At LA, 64 percent of the capital expenditure ($257 million) is earmarked for terminal development projects.
 At the TraPac Terminal, $100 million will be spent, including $28 million for construction of a new main gate and administrative buildings, $62 million for backland improvements, including the installation of
automatic stacking crane infrastructure necessary to support future terminal automation, $9 million for
construction of a new Intermodal Container Transfer Facility to provide on-dock rail capabilities for the
terminal.
The China Shipping Terminal will take up $36 million in construction out of a total budget of close to $42 million. At Long Beach the Gerald Desmond project will take up $280 million, Middle Harbor $214 million and security projects (not running costs of security) $61 million. (That last sum is yet further confirmation of the "new normal" in the post-9/11 world.)
Long Beach has a debt portfolio of $953 million, with $81 million being paid in interest and principal. LA is setting aside $44 million in Debt Repayments/Non-Operating Expenses.
LA is spending $96 million on cold ironing at the APM, APL, Evergreen, Yang Ming and China Shipping terminals.