Where Do Ports Fit in California's Environmental Regulatory Vision?
California strives to further reduce its greenhouse gas emissions. Having a vision is easy, but implementing it is hard. PMSA president John McLaurin explains.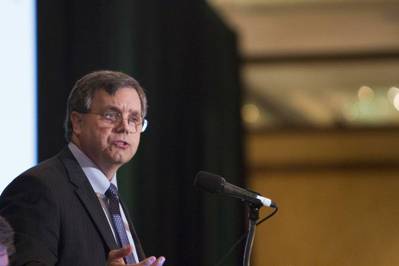 California is a state with a long history of dancing to its own tune.
We are innovators in culture, fashion, entertainment, business, technology and government regulation.
Today, California has an environmental regulatory vision. And at times, while pursuing this vision, science and economics can become irrelevant to the overall debate.
Consider the following:
One of the more controversial issues debated in the closing days of the 2016 legislative session concerned the reduction of methane gas from the digestive processes of cows. According to some, methane gas from cows is responsible for five percent of California's greenhouse gas emissions and reducing it a few percent would be the equivalent of taking a million cars off the roads in California.
But a cow's got to poop, and burp and pass gas. And if cows don't pass gas, they reportedly explode. So the state of California has allocated $50 million to study how to reduce methane gas from cows – whether it's changing a cow's dietary habits or genetically re-engineering them.
By comparison, equipment already regulated by the California Air Resources Board that is used at California's ports to move cargo on and off ships, trucks and trains contributes approximately 0.0747 percent of California's total greenhouse gas emissions. And CARB wants to convert this equipment to zero emission by 2030 at an estimated to cost of between $23 and $36 billion.
However, unlike funding to study cow emissions, to transform marine terminals to zero emissions public funding to achieve these state goals is in jeopardy as the ILWU is opposing the use of public funds for projects that would have the effect of displacing workers in port operations. How that would be defined, how it would be enforced is difficult to say – but it could prevent public funding of most infrastructure and zero emissions projects that enhance the capacity and efficiency of ports. The fear expressed by the ILWU is that zero-emission requirements will lead marine terminals down the path of automation.
So we are left with the following contrasting state policies: $50 million of public funds to study controlling 5 percent of the state's greenhouse gas emissions versus a prohibition of public funds and the expenditure of $36 billion from the private sector to control 0.0747 percent of the state's greenhouse gases.
But why should you care? Because California's ports handle most of the merchandise California retailers import. Last year, those ports handled nearly $300 billion in containerized imports.
Efficient and economical port operations go directly to your bottom-line.
For those who conduct business through West Coast ports there are other challenges on the horizon that are ignored only at your peril. There are a number of proposed environmental policies that have the potential to reshape your supply chain, modify your business practices, and will certainly cost you more money – all in an effort to reduce greenhouse gas emissions and various pollutants.
Two years ago, the Governor issued an Executive Order (B-32-15), directing various state agencies including CARB to develop a Sustainable Freight Plan with multiple goals, to reduce emissions from freight activities but also, as the governor demanded, to "increase competitiveness of California's freight system." The Governor was seeking to find a "sweet spot" – one in which pollution and greenhouse gases were reduced, but also where California's freight system, a major component of California's economy, was enhanced. It was visionary and an act of leadership – and it was a process embraced by California's supply chain.
But all of the good faith effort that went into the development of the Sustainable Freight Plan was wiped away by CARB earlier this year. On March 23, CARB adopted various policy directive resolutions. No public discussion was allowed, the resolution was not available to the public prior to their vote nor did individual CARB Board members discuss or ask staff any questions about the economic or environmental impacts of their directives. There was no reference or acknowledgment of the two years of work in the development of the Governor's Sustainable Freight Plan.
The CARB resolution directs staff to develop indirect source rule concepts, also known as facility caps, for warehouses, railyards, ports and distribution centers. A facility cap is an artificial limit on business activity in order to reduce air emissions. From a port and supply chain perspective, it is a state-imposed cargo diversion mandate.
CARB's resolution also required the development of regulations for marine terminals at California's ports to use up to 100 percent zero emission equipment by 2030 and for up to 100 percent of vessels to use shoreside electrical power while at berth – there are currently regulations in place for containerships but imagine plugging a large extension cord into a super tanker filled with petroleum products.
I should point out that the ports of Los Angeles and Long Beach and their customers have successfully reduced pollutants by decreasing diesel particulate matter by 85 percent, 50 percent reduction of NOx, and 97 percent for sulfur oxides from 2005 levels – and those efforts continue.
This leaves California's intermodal supply chain, and especially marine terminals, in a difficult quandary – port authorities and regulators want them to reduce greenhouse gas emissions, decades ahead of the state, and want to dictate the technology – electrification – all at a cost of tens of billions of dollars which neither the marine terminals nor the port authorities possess or are capable of funding; at the same time the ILWU is opposing and the state of California is on the verge of prohibiting, the use of any public funds which are needed to achieve the state's regulatory objectives.
Having a vision is easy, but implementing it is hard – and California's supply chain is at the leading edge of a debate that will encompass the rest of California – complying with strict environmental policies while balancing labor and economic needs and realities. It's a three legged stool which only has two legs at this point.
All of these policy debates and political struggles take place within the following context:
First, the maritime industry is losing billions of dollars.
Second, the entire supply chain is evolving, with multiple alternatives and competitive trade gateways on the rise.
Third, from an environmental standpoint, the entire state of California's contribution to worldwide greenhouse gas emissions are approximately 1.2-1.3 percent. It is equivalent to being within the margin of error for both global and national inventories and forecast models. Greenhouse gas emissions from port operations in California are a small subset of the state's overall greenhouse gas contributions.
And fourth, as everyone is aware, greenhouse gas emissions are global in scope and impact, irrespective of where they are emitted. If state and port policies end up being too restrictive, too expensive and drive business away, these policies fail on several levels – they won't reduce emissions, they will only relocate them, having no positive impact on climate change. More importantly, greenhouse gas emissions follow cargo – they are inseparable. When the cargo leaves it takes the emissions and jobs with them.
All of the policies I've discussed today are admirable in terms of their goals and objectives. I don't think anyone can argue with that. But these goals have to be tempered by the realities of the world. If our objective in California is to be first – we will certainly accomplish that aspect of the goal. But unless others follow, the victory is a hollow one.
Reducing pollutants and greenhouse gas emissions requires more than setting arbitrary goals. It requires a vision that others will follow. More specifically, it requires greater innovation as well as investment in supply chains, in our ports and our transportation infrastructure, and in protecting California's economy. Only then will California's regulators be world leaders.
John McLaurin is president of the Pacific Merchant Shipping Association. The above is his speech given at the California Retailers Association annual meeting on May 31, 2017.