DEBT, PRIVATE EQUITY, VC'S, ANGELS AND OTHER FLYING OBJECTS
AND WHAT'S THAT TO GOT TO WITH FUN??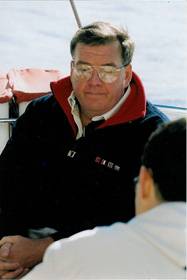 As a business coach, I have learned that some VC's (or "venture capitalists" - sorry if you already knew that but you might have thought I meant Viet Cong; yes I AM that old but I was in Submarines remember ) can be to some business owners they finance as boats in general are to boat owners. 
The two happiest days in the lives of boat owners are the day they buy their boats and other is when they get rid of them. As to VC'S with their need for pretty good returns, and tomorrow would be nice ….. well, over to you.
Anyway, two companies not necessarily instantly identified with superyachts recently have found their names in news pieces accompanied by words like Private Equity and VC's.
Dockwise and Hinckley.
A week or so ago, the NEW YORK TIMES ran a piece entitled "Debt Trips Up Hinckley, Venerable Yacht Maker."
And then, a day or so ago, Dockwise Ltd
www.dockwise.com
announced it was saying goodbye to 3i
www.3i.com
   as part of, "
a balance sheet reinforcement, which includes an equity
raising of between USD 220 million and USD 250 million to strengthen its capital
structure and position itself for sustained growth. The net proceeds of the equity
raising will be used to pay down outstanding debt." 
SHE AIN'T HEAVY, SHE'S MY SUPERYACHT
Bermuda incorporated, Dockwise Ltd is headquartered in the Netherlands and
very well known the superyacht industry for their four brightly coloured. semi-submersible, heavy-lift, yacht transport ships
in its
Dockwise Yacht Transport 
www.yacht-transport.com
fleet. (Dockwise of course has other semi-submersible ships in their less sexy, heavy-lift division, but those – heaven forbid - haul smelly oil rigs, boring container gantry cranes, drab grey Men-of-War with holes in their hulls and gently glowing Nuclear Submarines.)
Their yacht website says they provide "hassle-free" yacht transport. 
Hassle-free of course is important when you're marketing to what has been cottage industry where the emphasis is on fun and budgets are for other people.   
So to cater to an industry seldom known for exactly roughing it, shall we say, Dockwise does this in style. 
Their yacht carrier YACHT EXPRESS
www.yacht-transport.com/yacht
was specifically designed for the business of superyachts, providing fast
yacht shipment with onboard
amenities including a
conference room, media room, atrium with lounge, swimming pool, fitness room and  complimentary cabins for ride-aboard yacht crew
.
The Dockwise yacht business model took a page out of US Eastern Airlines with their east coast Shuttle in the early 1960's. Long ago I even studied a Harvard Business School case on it – I went to Purdue though.

For those whose parents weren't even alive back then, Eastern Airlines noticed that there were more passengers than seats on flights on the crowded routes between the US cities of Boston, New York and Washington DC. So they laid on extra capacity in the form of paid-for but-out-of-date reciprocating, tri-tailed, Lockheed Constellations – "Connies" to their friends, and they were beautiful too - soon to be joined by brand-new, but already obsolete turbo-prop Lockheed Electra's. The neat thing was they guaranteed everyone a seat – step up and step on – putting on extra aircraft as required.   Of course this was all pre 9/11..... 
I digress.
Similarly, at the end of the last century - the 20 that is - Dockwise also found itself with extra capacity so decided to float on / float off yachts in a dedicated liner service across the Atlantic.
Customers were yacht owners who didn't want to put hours on their gleaming main propulsion. But there were also yacht owners who had been finally convinced that all that equally beautiful, vertical EXTERIOR glass would let in an awful lot of icy Atlantic Ocean if it happened to shatter in a North Atlantic blow. 
In fact, the story goes of a yacht Captain who finally had to put his foot down. Apparently his proud new owner - the "Boss" in yacht-speak - who obviously had never been to sea before, told him he wanted to take the 100+ foot yacht across the Atlantic in February - on her own bottom, of course.
"Boss I don't care how much you paid for her or IF SHE IS longer than the MAYFLOWER, I wouldn't take this yacht across the Atlantic in July, let alone in the winter." 
Other companies transport yachts, but Dockwise's USP is having dedicated tonnage, in liner service and being flo-flo (float on float off ) as opposed to lift on/ lift off.
WHAT DO YOU MEAN THAT GIRL'S NOT STARING AT ME??
Whether in the style of many a property developer with too much debt that is challenging budgeted returns or not,
if anyone should be in the superyacht business, Hinckley www.hinckleyyachts.com should be.
Quite simply Hinckley builds some of the most beautiful boats in the world.
Although based on the humble Maine Lobsterman – and what's wrong with that, by the way? - their Picnic Boat is my personal favourite.
Of course, I was fortunate to spend a week in one, snug-as-a-bug-in-a-rug, bashing around a very stormy Solent watching J Class yachts and former America's Cup challengers race off England's Cowes. Then we took the same Picnic Boat across the English Channel, in a pea-souper, to Vannes in France via St Malo and Brest.

 No problem and "we" looked great.
I remember sitting on board the beautiful boat in marinas and, just for a moment, thinking that all those pretty girls walking by were actually staring at me, for once in my life.
But alas. It's the Picnic Boat stupid!  
Anyway to the uninitiated and providing insight into the industry, a Hinckley Picnic Boat would seem to be the perfect superyacht tender.
The problem seems to be that, having spent 20 to 250 million dollars buying a yacht specifically to be conspicuously different, who in their right mind wants to buy any old production tender???? - even if she happens to be drop-dead gorgeous, comfortable at 27 knots, consummately sea-worthy, draws only 18 inches, turns on a Dime (or a two Pence piece) at full speed and also happens to sell for over US$ 600,000 – FOR A LOBSTER BOAT?, I hear you say.
The good news is, as it was reported yesterday, Hinckley was due to begin bringing back some furloughed workers to their Maine yard. 
But if things get back to normal, maybe Hinckley should get into the superyacht business by building superyachts where "perfect isn't good enough, tomorrow is too late and money is no object" – well, at least it wasn't. 
-end-