WHEN IS A PETERBILT LIKE A SUPERYACHT?
WHEN IT HAS A NICE PAINT JOB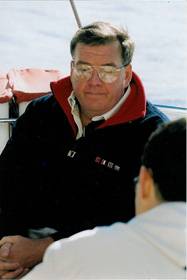 I just discovered that December is actually quite a nice time to be in Monaco. 
The temperatures are certainly fresher than during the Monaco Yacht Show in September.  And those supermodels hanging on the arms of their chubby, balding, middle-aged escorts seem to be somewhere else, or at least indoors.  
And most importantly it's actually possible to get a cab.
In fact, at first blush the three events would seem not to have much in common; certainly not as to offering any commentary on the current state of the superyacht industry. But much like a poem by Robert Frost, just below the surface there's the real message.
First,
racing under sail is becoming big business and it was clear that the delegates hoped it would get even bigger
.
One session in the conference was entitled "What Can Sailing From Other Sports?" and featured Nick Fry Chief Exec of Brawn GP F1.  (For those more familiar with NASCAR, Formula 1 is NASCAR with some turns to the right and very well paid drivers.) Although into World-Class auto racing from a career that has gone from Ford to Cosworth and then Aston Martin, Fry is a keen sailor. Sadly, he thinks sailing has a way to go to even think about rivaling the commercial rewards of Formula 1.
So
while the
Nouveau Riche
might not be buying quite as many superyachts, the truly wealthy who love the sea still seemed to splashing out on winning
in Saint Tropez. An indeed, since September while many yachts were selling for lower prices, the ranks of resurrected classic sailing yachts like the J Class have since kept growing.
Racing big yachts to win takes money, big money, if only to keep up with technology available to the other guy. Racing any boat hard tends also to break things, expensive things.
And one thing that costs a lot in sailing is a racing yacht's suit of sales.
Fitting then that Tom Whidden, President of North Marine Group
www.northsails.com
the largest builder (you "build" a sail, you don't sew it) of sails in the world, including the J Class, should deliver the key note address for the Racing Forum and the Design Forum.
But from a pure superyacht perspective, the real insight and action was in the coating conference where over the two days, just across the hall and one floor down from those dreams of huge sponsorship deals, superyacht owner's reps, surveyors, lawyers, paint manufacturers (some who it turns out chose not to identify themselves), applicators and environmental regulators only proved yet again that superyachts are different.
Paint and superyachts is an emotive and litigious subject.
And it all boils down to, "Why can't my yacht shine like my Bentley?"
Why indeed, if it was just a question of money? 
Granted, painting a superyacht with over a million dollars worth of specialized white gloss is not simple, but not for reasons you might expect.
To be fair, in superyachts, a "spray booth" can often be an improvised affair with scaffolding and sheets of plastic to shelter, not only the yachts and their wheezing paint applicators, but sometimes also the carpenters who just have two more days of sanding to do. And as most anyone can figure out, dust doesn't help any paint job. 
But at first glance, the conference's program suggested that the common enemies were the environmental police of the World's major governments like the USA's EPA (Environmental Protection Agency), VOC's  ("
volatile organic compounds"
) and orange peel, that dimple effect you get with a cheap automobile re-spray. 
But the real problem turned out to be  once again the nature of the superyacht industry, starting in this case with the fact that no one can agree on a standard for paint.
Yes you heard that right - on a 20 million anything plus superyacht, it is currently almost impossible apparently to define how a paint job should look.
So it often becomes a "bun fight," as the British would say. 
Unfortunately the guys tossing these dinner rolls can be some of the most expensive lawyers in the world funded by some very annoyed and even better funded owners. 
And remember all this is supposed to be fun – for the owners, not the lawyers.
It boils down to a superyacht study, the results of which stated that 60% of the pleasure owners derive from their yachts comes from the yachts' appearance. Not surprisingly then, a lot of that pleasure comes from the paint which must be perfect, all 550 feet of it.
Think of looking down the hood or bonnet of a 500 foot Bentley and you get the idea.
To add to the entertainment value at the conference, suddenly amidst the confusing claims and counterclaims between owners' reps, manufacturers and those holding the spray gun, came an enlightening comment from one big yacht paint manufacturer who I will leave nameless. 
It went something like this:
"Sure there are times I know up front that the yacht, the yard where she's being painted and the people who will be painting her are a formula for disaster, but we sell 'em the paint anyway; we have to pay the rent, don't we?"
(Remember, we're talking seven figures here.)
And ironically the response from some of the delegates to this incredible statement seemed not to be shock but rather an acceptance that a Bentley finish was perhaps something that owners should just be convinced was an impossible dream – after they have signed the contract of course.
Two presentersare lawyers went on to suggest politely that perhaps words like "best" and "un-equaled" when written, even in a superyacht paint contract, perh meant the paint job should be, best and unequaled. 
Revolutionary stuff.
(Sadly for Axo Nobel, Captain Schofield had not chosen their paint, AWLGRIP, but rather that of relative newcomer to superyachts, DuPont.) 
A humble and seemingly competent man, Schofield went on to reveal that he performed this painting miracle simply by from the start getting everybody involved - crew, yard, applicator, manufacturer and surveyor - and then just kept everybody talking.
"Sure there were problems, but we worked them out."
Basic project management in any other industry.
Aaah, but this is superyachts. They're different of course, you say.
Well maybe not much longer.
After the conference, in the subterranean cavern that is Monaco's train station, I met a young lady waiting to go home to Milan. 
It turned out that she had been at the conference and she was with a very big paint company who believes they're not in yachts, yet, because they make paint for trucks.
"No, my company really doesn't know anything about superyachts; that's why I was at this conference," she said, "Actually we make paint for trucks but some of our distributors have been selling it to paint yachts; they've even gotten it approved by the classification society, all by themselves; I came to see what all the fuss was about with superyachts."
"But does it work on superyachts?" I asked, "I mean, can you get a yacht to look as good a Bentley with truck paint?"
"Oh yes, indeed," she said, without even a moment's hesitation.
Maybe superyachts don't have to be different, even when it comes to paint. But then how much fun would that be? 
-end-