War of Jenkins' Ear
A 1739-1742 maritime conflict between Britain and Spain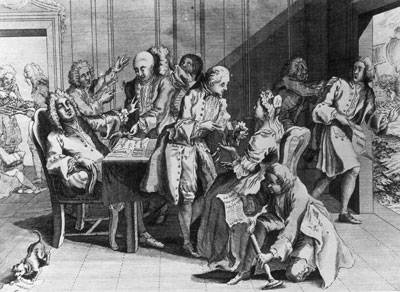 Relations between Spain and Great Britain during the 1730's were strained to say the least.
Spain had granted to British ships extensive trading rights in Spanish colonies in the Americas and now rued the decision.
There were numerous confrontations between British ships engaged in what they perceived as legitimate trading (particularly in slaves) and what Spanish authorities in the Americas saw as smuggling.
In 1731, the British brig Rebecca, Robert Jenkins, master, was boarded by the Spanish coast guard ship La Isabela, commanded by Julio León Fandiño.
Captain Fandiño accused Captain Jenkins of piracy and allegedly cut off Jenkins' left ear, saying: "Go, and tell your King that I will do the same, if he dares to do the same."
By March of 1738, war fever gripped London.
Jenkins was summoned before a committee of the House of Commons, where he allegedly produced his severed ear (presumably quite shriveled by then).
Britain formally declared war against Spain on October 23, 1739, events moving more slowly in the days before the Internet.
On November 22, 1739, a flotilla of six British warships led by Vice Admiral Edward Vernon attacked and captured Porto Bello, Panama, a major port for assembly of Spanish treasure fleets.
An elaborate dinner was held in London in 1740 to honor Admiral Vernon.
"Rule Britannia" was played for the first time.
Portobello Road in London is so named to commemorate the victory.
Spanish warships and privateers meanwhile inflicted heavy losses on British merchant vessels.
In September 1740, Commodore George Anson commanded a squadron sent to attack Spanish interests in the Pacific.
After various misadventures, he captured the richly-laden Manila treasure galleon off Cape Espiritu Santo in the Philippines.
Anson returned to Britain in early 1744, having circumnavigated the globe.
By then, the active fighting had ceased.
Regardless, Anson became extremely wealthy due to his share of the prize.
He was eventually promoted to First Lord of the Admiralty.
Robert Jenkins disappeared into history, but his ear will be forever remembered as a most unusual
casus belli
.