Anadarko´s Wahoo North Well Confirms Extension of Wahoo Discovery
Anadarko´s oil find in the Wahoo #2 well in the Campos Basin and OGX´s major increase in exploration drilling in Brazil all point to a high potential, low risk scenario in the Brazilian O&G fields.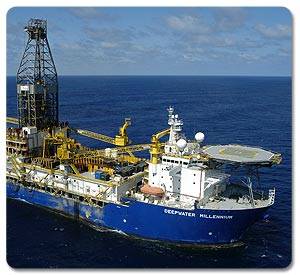 Anadarko Petroleum Corporation announced on Monday that the Wahoo #2 well (also called Wahoo North) exploration well in the Campos Basin has encountered more than 90 feet of high-quality net oil pay in the same pre-salt interval as the original Wahoo discovery.
The Wahoo #2 well is located in block BM-C-30 (Anadarko 30% and operator), five miles north and down from the previously announced Wahoo discovery that encountered more than 195 feet of net pay.
"The Wahoo North well is confirming all of its objectives, and the early results from the cores and wireline logs in the appraisal section of the well indicate high-quality resources and reservoir rock," Anadarko Sr. Vice President, Worldwide Exploration Bob Daniels said.
"We have approximately 2,000 feet left to drill before we reach TD (total depth) to test a secondary exploration objective; nonetheless, our activities so far have confirmed the main pay section in the original Wahoo discovery extends at least five miles to the north, and the hydrocarbon accumulation has been extended further down the structure. We believe the results to date increase the potential resources in the prospect area, and from what we've seen so far, Wahoo has the characteristics necessary to potentially become our next mega project."
Anadarko and its partners are continuing to collect data on the Wahoo #2 well and expect to provide an update regarding the field's estimated resources after reaching TD and incorporating the data. The company's drilling success on the block continues to de-risk additional prospects, and Anadarko plans to maintain an active pre-salt drilling schedule with up to two exploration/appraisal wells on BM-C-30 in 2010.
Also in the Campos Basin, Anadarko and partners are currently drilling the Itaipu prospect in the adjacent BM-C-32 block. The Itaipu well will test a pre-salt geologic feature similar to the adjacent Jubarte field, which is estimated to hold up to 2 billion barrels of recoverable oil. Anadarko holds a 33% working interest in Itaipu.
Brazilian OGX to Drill More Wells After Raising Oil Estimates
OGX Petroleo e Gas Participacoes S.A., the oil branch of the EBX group, a holding controlled by billionaire Brazilian investor Eike Batista, has anounced that it will increase the amount of wells drilled in Brazil after it boosted potential reserve estimates.
OGX will drill 79 wells in the five years through to 2013, a 55 % increase over previous plans, Chief Financial Officer Marcelo Torres said last week. The Rio de Janeiro based company's target for 2010 was increased to 27 wells from 19.
"The revision was required, in our view, to convert our resources into reserves," he said.
OGX said yesterday it may have potential reserves of 6.7  billion barrels of oil and equivalents, based on a 35 percent rate of success, citing research by the DeGolyer & MacNaughton consultancy.
Previously, OGX had claimed its potential reserves were estimated at 4.8 billion barrels on a 27 percent success rate.
OGX has $4.5 billion in reserve funds to finance drilling and continues to study opportunities to buy stakes in oil exploration blocks under concession in Brazil and participate in the next auctions to acquire new licenses.
"The company doesn't rule out forming partnerships with Petrobras, Brazil's state-controlled oil company, to explore the pre-salt region" OGX Chief Executive Officer Paulo Mendonca was quoted saying in a conference.
"If we have to cross to the pre-salt, we will do it without any problem," he said. "It is very preliminary to talk about it, but it is a possibility."
No confirmation has been made yet about new equipment orders, but as the increase in drilling is substantial, it is probable that more GE O&G subsea wells will be ordered, along with more PSV´s and other support equipment.
High Potential and Low Risk
This increase in exploration drilling by OGX and the confirmation of the extention to Anadarko´s Wahoo prospect are really good news, as this highlights the high rate of
 success of exploratory wells in the Campos and Santos Basins and is a very positive step in attracting potential investors.
It´s important to remember that only a small percentage of discoveries in the Santos Basin have been explored and that at the Campos Basin, (which many people still think is only composed of mature fields), new reserves are still being found, specially in the deeper parts of the basin.
Suppliers of subsea wells, drillships, insulated pipelines and other deepwater exploration and support equipment have definitely found a thriving market in Brazil and the prospect for growth and more business during the next decade, at least, are excellent.
New subsea drilling equipment and intelligent well technology will be very important for some of the new deepwater fields. Even with the high probability of finding oil in most wells drilled (in the Santos Basin the success rate is at more than 8O%), there is still the challenge to decrease exploration and oil extraction costs, specially for the pre-salt fields.
Claudio Paschoa