Cameron Supplying X-mas Trees for Petrobras
With major contracts secured in the last two years in Brazil, Cameron is in a great position to expand its presence in the Brazilian subsea market in 2010 and beyond.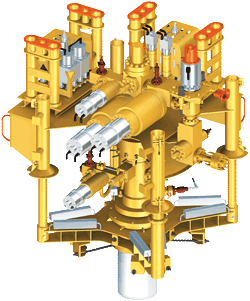 After being awarded a $100 million contract for 25 subsea Xmas tress for the Campos Basin by Petrobras in 2008, (deliveries completed in late 2009), Cameron entered into a frame agreement with Petrobras in 2009, expected to be worth approximately $500 million, for the supply of subsea trees and related running tools to Petrobras for use in their developments offshore Brazil.
Under the agreement, Cameron is providing 138 subsea Christmas trees, with the installation to be supported by 18 sets of running tools that are also part of the scope of supply. Initial delivery is slated to begin in 2011, with deliveries to continue for four years.
As a part of this agreement, Cameron has also received a purchase order contract for the first 111 subsea trees. Deliveries under this initial order are to begin in the first quarter of 2011 and continue until the first quarter of 2014.
Cameron President and Chief Executive Officer Jack B. Moore said, "We are pleased to have the opportunity to build on our history as a primary supplier of equipment and services in the Brazilian market, and we look forward to continuing our support of Petrobras' developments and our ongoing investment in Brazil." Moore noted that the receipt of the purchase order will result in Cameron's Subsea Systems group recording the value of the initial trees and related equipment in the Company's third quarter orders, and including it in the Company's subsea backlog at the end of the quarter.
Cameron has a wide range of subsea Xmas trees, composed of CameronDC subsea electric tree, Cameron FasTrac, modular dual bore tree, modular spool tree and mudline tree.
Cameron´s newest model the CameronDC Susea Electric Tree represents a breakthrough solution to the risks of subsea production, and addresses the challenges that can result in downtime, costly intervention, deferred production and lost revenue for offshore operators. This unique all-electric system, powered by direct current, dramatically improves reliability, availability and maintainability. The system has no batteries, hydraulics or accumulators and much of the conventional electro-hydraulic equipment has been simplified or eliminated. The CameronDC design translates to far greater uptime performance and significant cost savings. Improved System Availability and Reliability - CameronDC provides 99% or better uptime availability in deepwater and at long stepout distances.
OPEX/CAPEX Savings - Operational savings are derived from fluids, reliability improvements, lower intervention costs and increased total production. Capital expenditure savings include umbilicals, hydraulic fluids, and installation and commissioning.
Deepwater and Long-Distance Stepouts - CameronDC delivers capability at virtually limitless water depths and long-distance stepouts (beyond 100 miles) coupled with great response times.
Actuation Speed and Accuracy - With the elimination of hydraulics for power and signal, control system commands can be sent in rapid succession thus avoiding the lag time needed for accumulator charging. Flow and control of the well are maintained with precision.
High-Speed Communication and Real-Time Condition Monitoring - Without the need to transmit hydraulic signals through the umbilical, communication with equipment is near instantaneous and feedback on subsea conditions is instantaneous.
Environmentally Friendly - Without dependence on conventional hydraulics, the system offers significant health, safety and environmental advantages. The potential for hydraulic leaks is eliminated, as is the issue of fluids disposal.
CameronDC is a unique all-electric system powered by direct current. Suddenly reliability, availability and maintainability take a giant leap forward. CameronDC is simpler. Environmentally friendly. Easier to install. Fewer parts to maintain. Better feedback and greater response time.
This new subsea xmas tree technology is not only state of the art but also robust and dependable and undoubtably is the greatest challenger to other subsea xmas tree manufacturers presently supplying the Brazilian market.
With so many new discoveries and discovery developments happening in the three major Brazilian Basins, (Campos, Santos and Espirito Santo). Cameron and other subsea system manufacturers can expect a steady stream of contract awards in the coming years and even decades.
Claudio Paschoa
Photo courtesy of Cameron