Akash Dredging & Marine Services acquire cutter suction dredger
One more company takes the dredging route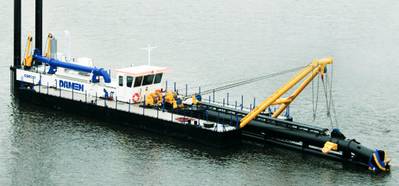 With the inauguration of their first cutter suction dredger (CSD), AKASH-1 this morning at ABG SHIPYARD, Dahej, Akash Dredging & Marine Services (P) Ltd, Visakhapatnam (ADAMS) has become the new entrant into the dredging arena. The company, which so far has been doing manning and technical management services operations of medium to large size CSDs, took on the additional role in order to take advantage of the growing dredging prospects in view of the capacity building process underway at most ports in the country.
Acquired from Damen Shipyards at a cost of around $ 4.5 million being the basic cost without ancillaries, the "Akash-1" with an installed power of 1300 kW is capable of achieving a maximum depth of (-) 14 meters. It can easily achieve a production of about 600 cum solids per hour within a distance of up to 1.25 km. The average monthly output would be 0.15 to 0.2 million cum basing on the site conditions and the type of material encountered. This dredger is supported with a pipe line of 1.5 km length including 500 meters of FPL. 
"The industry as whole has great potential for dredging with the growing demand for infrastructure (land & marine) and industrial development," said Madhava Varma, Managing Director of ADAMS. "There are several projects planned by the central and state governments in development of ports, transportation, land development water linkage or water ways. Our aim is to acquire assets to meet the end needs of clients in the dredging industry be it capital, maintenance, mining and specialized jobs. Currently, we have dedicated strength in the cutter suction segment with a state of art in-house workshop where the mechanical, hydraulic, electrical, electronics and machine shop jobs are attended within no time apart from the steel fab jobs."
According to an official of the company the second acquisition of a larger cutter suction dredger is also likely to be completed by next month which will establish ADAMS as a serious player in the Indian capital dredging market. These and other planned fleet expansions will favorably position ADAMS to compete in the Indian market. To date, ADAMS has identified and is actively pursuing more than ten dredging and reclamation projects. The expected value of these projects is estimated at approximately $ 200 million. The company is upbeat about the future prospects and is seriously considering enlarging its fleet by the addition of 1 to 2 cutter suction dredgers and a trailer suction hopper dredgers. The company, headquartered at Visakhapatnam, also has a state of the art marine workshop in Visakhapatnam and about 200 experienced technical staff on their rolls.